Our Staff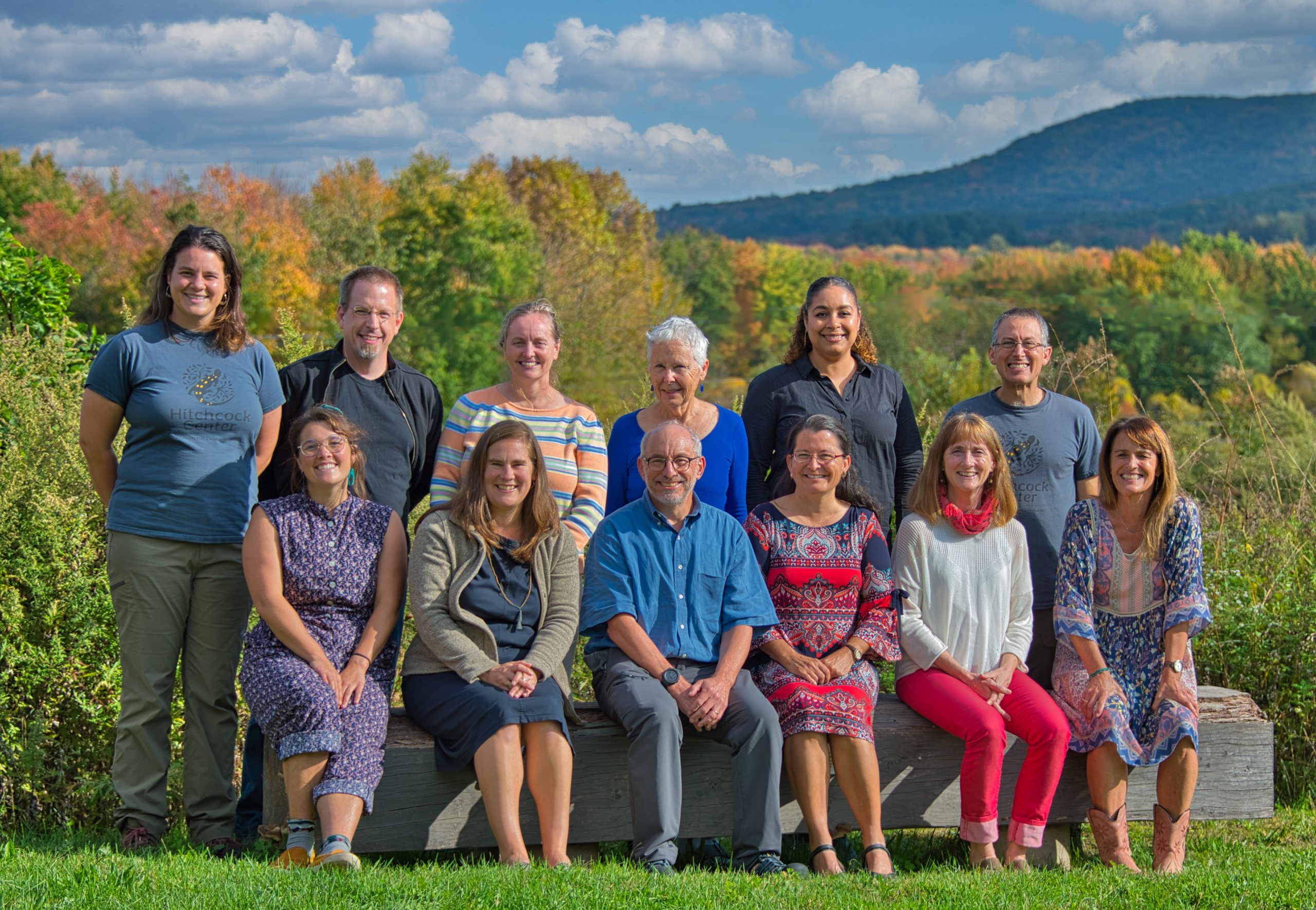 Our staff brings incredible passion, skill, and expertise to the field of environmental education. Each plays an important role in successfully fulfilling the Hitchcock Center's mission. With a shared sense of purpose and a commitment to excellence, we work collaboratively both within and outside the organization to offer a comprehensive environmental education program with wide-reaching impacts.
Our Administrative Team
Billy Spitzer, Executive Director (he/him) Billy has more than 30 years of experience as a non-profit leader and innovator in science and environmental education, climate communication, and network building to accelerate collective impact. He is currently a member of the coordinating team for the US Action for Climate Empowerment Coalition (www.aceframework.us), as well as a member of the leadership board for the Climate Literacy and Energy Awareness Network (www.cleanet.org). He is former Vice President for Learning and Community at the New England Aquarium, where he was responsible for applying learning and social science research across education programs, exhibits, visitor experience, and community outreach for more than 20 years. He has been recognized by the White House as a Champion of Change for Engaging the Next Generation of Conservation Leaders, and has received a Visionary Award from the Gulf of Maine Council for innovation, creativity, and commitment to marine protection. He has a Ph.D. in Oceanography from MIT and the Woods Hole Oceanographic Institution, and an undergraduate degree in Physics and Chemistry from Harvard University. Billy loves to spend time outdoors hiking, paddling, running, biking and backcountry skiing. email
Shelly Kahan, Center & Volunteer Coordinator (she/her) Shelly provides daily oversight and management of the Center's volunteer, facility, and administrative support systems. email
Kim Snyder, Development & Communications Director (she/her)
Salma Taylor, Development & Communications Coordinator (she/her)
Jennifer Unkles, Financial Manager (she/her) Jennifer has been teaching children and families at the Hitchcock Center and beyond for over 20 years. Over these years, nature has been a source of great inspiration and wonder and program ideas for camps, school groups and community outreach. More recently her focus has been on butterflies and the Monarch Watch Citizen Science Tagging Project. She is grateful for any time spent outside with others and her family, and for gardening and biking in this great valley. email
Our Education Team
Casey Beebe, Operations Manager (she/her) Casey holds a Master of Science in Environmental Education from Antioch University New England and a Bachelor of Arts in Natural History and Place-based Education from The Evergreen State College. She has over 18 years of experience developing and implementing innovative environmental education programs for people of all ages and has been with the Hitchcock center for over a decade. Her current responsibilities include annually coordinating up to 50 workshops, lectures, courses, and presentations aimed at fostering greater environmental awareness, literacy and action. This includes a program series focused on education for sustainability, environmental justice and climate change as well as equipping people with new knowledge and ways of thinking to achieve responsible citizenship and the restoration of healthy living systems upon which our lives depend. She also has significant educational gardening experience and is in charge of the development of the pesticide free native gardens and Nature Play and Learning Spaces Master Plan at the Hitchcock Center's newly certified Living Building. email
Dan Butterworth, Education Program Manager (he/him) 
Colleen Kelley, Education Director (she/her) Colleen loves children and loves to play both indoors and outdoors! The joy of working with children and families at the Hitchcock Center for over 35 years continues to be a constant source of inspiration and discovery, and Colleen is grateful to have this opportunity to keep growing and learning with the wonderful Hitchcock Center community. Recently Colleen helped design fundraise for, and build a Nature Discovery Play Yard at the Hitchcock Center.  As the Education Director at the Center, Colleen has developed a variety of programs ranging from Nature preschool, camps, afterschool programs, school field trips, school residencies, and homeschools to college courses and teacher professional development workshops. Colleen credits her love of the outdoors and environmental education to her parents who explored the woods backpacking with her as a child, to Rachel Carson's wise words about developing one's sense of wonder, and to her two wonder-filled grandchildren who keep her moving and exploring at all times!! email
Katie Koerten, Children, Environmental Educator (she/her) Katie Koerten started out at the Hitchcock Center as a summer camp counselor in 2007, and she's been working here there ever since! Katie has taught and directed Hitchcock programs such as Nature Play Afterschool, Girls into the Wild, Nature Summer Camp, Winter and Spring Vacation Camp, Girl Scout programs, school engineering residencies and more. Before joining the Hitchcock staff full time, Katie worked as an avian rehabilitation intern at the Vermont Institute of Natural Science, where she helped diagnose and treat injured birds and release them back into the wild. Katie's professional passions are creating spaces where girls can feel at home outdoors and in STEM and making the outdoors safer for Black and Indigenous People of Color. She is a lifelong student of bird songs and plants native to New England.  Katie's favorite colors in nature are a toss-up between the electric red of a scarlet tanager and the periwinkle blue of chicory flowers. email
Peter Lamdin, Environmental Educator (he/him) Peter has been involved with the Hitchcock Center, off and on, since 1975 (when it was The Long Plain Nature Center). He helped run summer camp and did school programming, before becoming a classroom teacher at the Fort River School in Amherst in 1980. When Peter retired (or "expired" as one young Fort River student put it) in 2013, he was able to return home to Hitchcock, once again doing programs in elementary schools during the school year, and starting Leadership Training Camp during the summer. Peter continues to work on Leadership Camp, but has re-retired from elementary school programming, and can be found birding, biking, skiing, gardening, playing guitar, and grand parenting when he can, given that his grandchildren live in California. email
Jeffrey Mazur, Environmental Educator (he/him) Jeff is answering the call of the wild — to inspire others to be better stewards of our planet through helping children and adults more deeply connect to the natural world. Jeff is entering his sixth year at Hitchcock Educator and also serves as co-camp director at the Hitchcock Center. During the school year, Jeff teaches our Homeschool II Program, Nature Play Afterschool Program, and classes that visit the Hitchcock Center on field trips. When not at the Hitchcock Center, Jeff can be found spending time with his wife and children, in the woods keeping a keen lookout for mushrooms, swimming at Puffer's Pond, biking or tending his garden. email
Micky McKinley, Resource Center Coordinator & Environmental Educator (she/her)
Micky has been at the Hitchcock Center for over 30 years. She has been an educator for children and teachers. Being outdoors with children is one of her favorite activities. But she also is passionate about teaching about climate change through the curriculum she helped develop on Energy Literacy. Currently, she manages the library and teaching materials and does a little teaching just for fun. email
Monya Relles, Environmental Educator and Animal Care Manager (they/them). Monya loves backpacking, farming, and writing poetry in trees, and they have been getting their clothes muddy for as long as they can remember. Monya has nine years of summer camp counselor experience but their favorite summer camp by far has been the Hitchcock Center where they started working in 2019. Monya is especially interested in integrating environmental justice and climate change education into their lessons. You can almost always find them dancing or in the woods. email
Helen Ann Sephton, School Programs Coordinator & Environmental Educator (she/her). Helen Ann Sephton has been teaching children, families and teachers at the Hitchcock Center for over 25 years. In recent years her focus has been teaching in local elementary schools through residency programs where she uses school grounds to connect students to nature in their own community. Her passion is helping young people develop the skills of scientific inquiry through direct experiences, both in nature and through the engineering and design process. She also enjoys facilitating professional development workshops that focus on developing students as scientific thinkers. Helen Ann has helped develop innovative state-wide curriculum that meets the Next Generation Science Standards.
Aemelia Thompson, Environmental Educator (she/her)  Aemelia is a loving, open and determined educator hoping to enrich children's lives throughout the valley. After graduating from Hampshire College, she explored a variety of educational roles that allowed her to discover her love for teaching kids in nature. Aemelia is an advocate of the therapeutic effects of the natural world, having led  an outdoor agricultural program at a therapeutic school for two years before coming to Hitchcock. Through the Hitchcock Center, Aemelia discovered a new love for bugs which she's happy to share with anyone who wants to listen. She lives in Holyoke with her partner and two dogs and has lived in the Pioneer Valley for more than ten years. When not at work she can be found enjoying the Seven Sisters mountain range and playing games with her friends. email