A Hike at Royalston Falls, Royalston, MA
By Micky McKinley and Jaana Cutson
April 8, 2020 (Originally published April 25, 2013)
Editor's note: You may be looking for places off the beaten path to get outside while also keeping a safe distance from others. To help you, we are republishing a number of seasonally appropriate blog posting based on our original 50th Anniversary blog on 50 places introduced in 2012.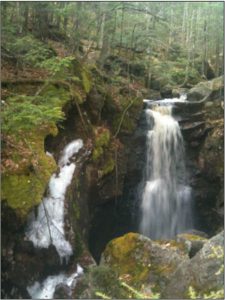 This is a descending trail that leads to a deep, ancient gorge carved by glacial meltwater to falls that plunge 45 feet into a basin. One of the things that make the falls so special is its remote location. It is well worth the rather difficult 0.8-mile hike to the edge of a half-hidden forested ravine. Please note that the trek is not an easy one, and can be very wet in places, so you should use extreme caution when walking here. The 0.8 mile-trek down to Falls Brook is part of the much longer Metacomet-Monadnock Trail. The M-M Trail extends for 117 miles from the border with Connecticut near Springfield to Mount Monadnock in southwest New Hampshire.
We hiked here in April but it would be amazing year-round. In winter the freezing spray and ice would create an icy marvel. This property is owned by the Trustees of Reservations. Read more details about the trails at their website here.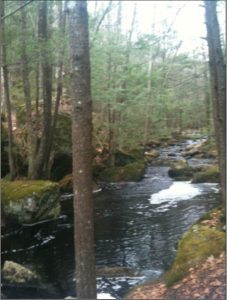 From the Trustees website:
"From the time of the first wave of European settlers in the 17th century, much of the Massachusetts forest was cut down for agricultural fields and pastures, firewood, and timber. Such wholesale land clearing continued into the 19th century until New England farmers abandoned their fields and headed west in search of richer, less rocky soil. Today, the resurgent forest continues to slowly erase all remnants of human activity from more than a century ago.
But at this reservation, the forces of nature manifest themselves in ways other than just flora reclaiming its own; Falls Brook not only carved the flume but also fashioned a series of natural bridges through the bedrock just upstream."
Directions: From Route 2, take Exit 18, Route 2A west. Follow into Athol. At the intersection of Route 2A and 32 in Athol, cross Millers River Bridge and bear right onto Chestnut Hill Rd. (becomes Athol Rd.) north toward Royalston. From Royalston Center, follow Route 68 North until it ends. Turn right onto Route 32 North and follow for 1.7 miles. to entrance on right. Enter the reservation via the marked Tully Trail.
Micky McKinley is an educator and resource librarian at the Hitchcock Center for the Environment. Jaana Cutson is a past board president and current board member of the Hitchcock Center for the Environment.
Photo credit: Jaana Cutson
Click here
to return to full list of blog entries. Or chose a specific Blog category below.
Blog categories