Aemelia Thompson Joins Hitchcock Center's Education Staff
We are happy to announce that Aemelia Thompson has joined the Hitchcock Center's education team as a part-time environmental educator. She leads the Second Saturday Science program, in addition to facilitating field trips, and summer camp programs.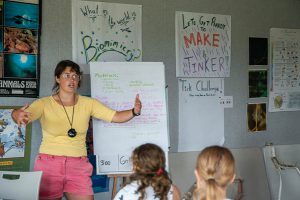 Aemelia started at Hitchcock as a Nature Summer Camp counselor in 2018 and has been with the staff part-time since September, 2018.
Aemelia comes to us after working for a variety of outdoor programs in public and private schools across the valley. After graduating from Hampshire College with her early-childhood teachers license she spent three years at the Hartsbrook School assisting in the early childhood program. From there she gained valuable insight on the importance of the outdoors and free-play in the lives of young children. She ended her time there as the farm assistant and found that her true calling was outdoor education. She then lead her own outdoor and gardening programing in a private therapeutic school in Easthampton as well as gardening programs in Easthampton and Northampton public schools.
Aemelia is passionate about growing food, getting dirty, and reconnecting students to the things they eat. She is also passionate about the therapeutic affects the outdoors holds and utilizes them on a daily basis, hiking, kayaking, and simply being outside whenever she can.
Welcome Aemelia!
Click here
to return to full list of blog entries. Or chose a specific Blog category below.
Blog categories