Birding Programs for Youth this December
By Katie Koerten

The Hitchcock Center for the Environment is excited to be weaving a birding theme through three programs this December to connect young people with the avian world.
First, on December 8 from 10-11am, Heidi Stemple will be a special guest at our monthly Second Saturday Family Science program, called Counting Winter Birds. She will read from her new children's book about the Christmas Bird Count and talk to kids and their families about the purpose of this annual event. A Hitchcock educator will facilitate bird related crafts and activities before and after the reading. This event is very popular and attended by preschoolers and their families. This program is generously sponsored by Pelham Auto.
On Tuesday,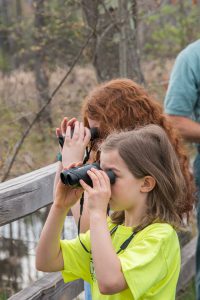 December 11, Heidi will visit Katie Koerten's monthly Homeschool Discovery Day program for 6-12 year olds, once again to read her new book and talk to us about the Christmas Bird Count. After Heidi's visit participants will go outside to see what birds can be seen, learn about identifying field marks and discuss the challenges birds face when they stay for winter versus making the journey south.
Hitchcock Educator Katie Koerten will facilitate a kids' Christmas Bird Count at and around the Hitchcock Center on Sunday, December 16 from 2-4pm. Local kids can attend and count birds, and a report of the collected sightings will be provided to the Hampshire County Bird Club at their following dinner. We hope that many who have attended previous counts will join us!
All three programs are generously sponsored by Hampshire Bird Club.
Click here
to return to full list of blog entries. Or chose a specific Blog category below.
Blog categories