Build Better Podcast Features Hitchcock Center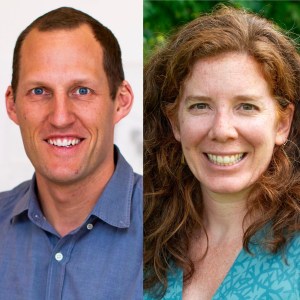 By Jessica Schultz
Hitchcock Center's Living Building Coordinator Jessica Schultz and architect Sam Batchelor of designLAB architects were featured on the Build Better podcast, from Boston, this summer.
In this segment, Jessica and Sam talk about what it means to build a Living Building, how the building can be design to be a teaching tool, and how we use the building to promote environmental and social change.
Listen to the full podcast here.
The Living Building framework of petals — including Energy, Water, Materials, Equity, Health & Happiness, Place, and Beauty — serves as a tool to inspire conversations and actions on sustainable solutions in our community and beyond.
As the 23rd Living Building in the world and the 4th in Massachusetts, the Hitchcock Center has been able to introduce thousands of visitors, from industry professionals to community members, to the building's net zero systems and simple design features through it building tour program, led by Jessica Schultz. The building has also served as an example to international visitors and project teams from 33 countries around the world.
Hitchcock educators have used the building as a teaching tool in the Engineering Design: Modeling Solutions to Real World Problems curricula, specifically developed to use the building as a tool for engaging elementary students thru college age students in STEM education. This curricula includes challenges such as: rainwater capture, water filtration, energy investigations, and wind energy that mimic real-world challenges faced by building engineers.
Our building is also featured in Jonathan Wright's book Living Building Makers: Creating Sustainable Buildings that Renew Our World. Pick up your copy at the Hitchcock Center.
We are grateful to our community who continues so graciously to support our Living Building!
Click here
to return to full list of blog entries. Or chose a specific Blog category below.
Blog categories