Calling all superheroes! Be a Salamander Superhero: Take the 30-Day Sustainability Challenge

By Marcus Simon
The Hitchcock Center for the Environment is calling all superheroes! April is Earth month, and Hitchcock is issuing a challenge to the local community: can you be a Salamander Superhero by changing some of your habits this month?
The Hitchcock Center's 30-Day Sustainability Challenge is designed to help individuals, families, and students gain more of a sense of how we use resources, by engaging in activities like packing a no-waste lunch, buying locally rather than online, calculating your ecological footprint, and more. Sustainability is for everyone – you can make a difference!
Darcy Albanese, Head of Middle School and Science Faculty at The MacDuffie School in Granby has engaged her students the Challenge, "I decided to challenge students in the Middle School to pledge to make a difference this April by agreeing to pick one or two things that they can do daily or weekly to help the environment. Things like Meatless Monday, not running water while brushing their teeth, unplugging cords when not in use, or turning off electronics when not in the room. I am setting aside 50 minutes for the students to make posters to hang throughout the school. Each poster will be an advertisement for a different way students can help the environment. There are 37 students who will participate along with a number of teachers."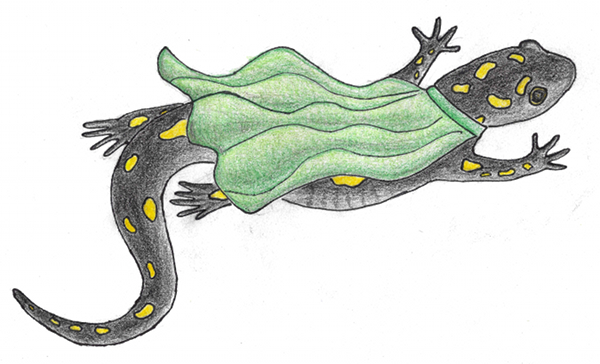 Inspired by the Hitchcock Center's new "living" building now under construction, these fun activities minimize waste and litter, save water and money, and help make our world cleaner and healthier. Participants should register on Hitchcock's website, where they can also find more information about this month's Sustainability activities, and connect with other participants. At the end of the challenge, all registered Salamander Superheroes will be invited to join a special "superheroes only" tour of the new "living" Hitchcock Center.
This challenge is also an opportunity to raise funds in support of the Hitchcock Center's own Sustainability Superhero, their new "living" building. Designed to meet the highest standard of sustainable design, the Living Building ChallengeTM (LBC), the new Hitchcock Center will collect all of its own water from rainfall, all of its power from the sun, and co-exist harmoniously with the environment. This pioneering project aims to be the first environmental education center in New England to achieve full LBC certification. Learn more about this new breed of building and how it will bring out our inner Superheroes. Salamander Superheroes can invite family and friends to support their participation in the Challenge by pledging gifts, with all funds helping to build this inspirational new Center.
Salamander Superhero participants can share their sustainable activities, ideas, and challenges on Hitchcock's Facebook event, and via Instagram using the hashtag #salamandersuperhero.
For additional information about the 30-Day Sustainability Challenge, please contact Marcus Simon, Development Coordinator, at 413-256-6006
Marcus Simon assists the Executive Director and Board through fundraising activities that garner a deep support base through local businesses, individuals and foundations.
Click here
to return to full list of blog entries. Or chose a specific Blog category below.
Blog categories