Colleen Kelley Receives Title Nine's #GiftedWomen Award
January 7, 2019

Education Director Colleen Kelley has been selected by women's athletic apparel company Title Nine as one of two nationwide #GiftedWomen in recognition of her 35 years educating children and youth at the Hitchcock Center. Her $500 award will help to support the Colleen Kelley Discovery Yard at the Hitchcock Center, an engaging outdoor exploration and play space for children and their families.
Colleen is the heart of our preschool and early childhood education programming, coordinator of our internship collaborations for middle, high school, and college students, and a passionate advocate for STEM education. She's shared a lifelong dedication to educating our whole community, to connecting people with knowing and respecting the life around us, and to building a successful Hitchcock Center and a healthier planet. She is a continual inspiration and guiding force to everyone who knows her.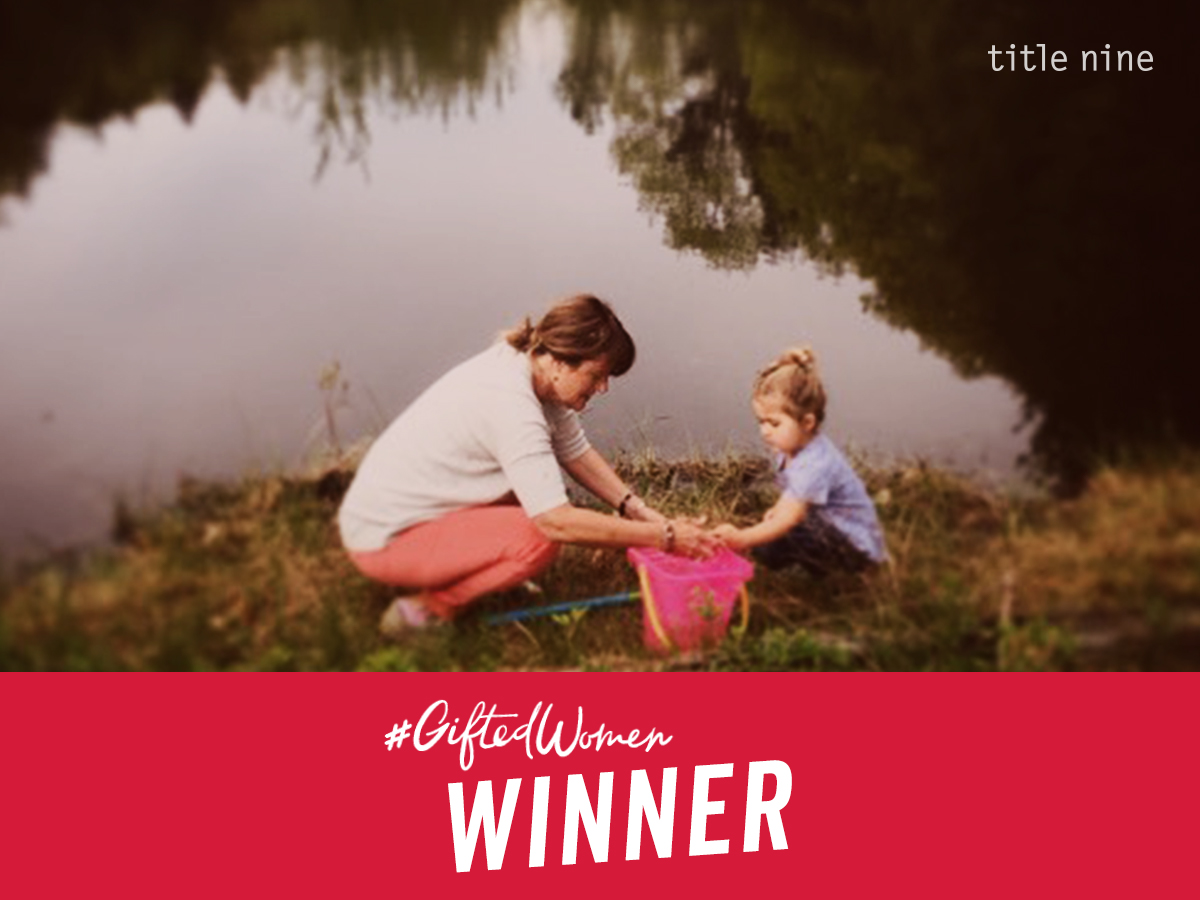 We thank Colleen's daughter Hannah Richards for nominating Colleen! Here's an excerpt of Hannah's nomination:
While I'm sure my mom thinks of herself as an everyday mom, wife and educator — what she has done for her community, for children, and for our planet is nothing short of remarkable.
My mom has devoted nearly her entire career to building, leading and growing the Hitchcock Center, a nonprofit organization that essentially teaches kids how to play outside.
It sounds almost absurdly simple but so many kids today have never held a cricket. Or climbed a tree. Or even though they can read at 4 years old, they don't understand why flat rocks skip over water but round ones go "kerplunk." Or how rocks end up flat to begin with or where seaglass comes from or what happens to the atmosphere when cows fart. 🐄
But imagine if they knew. If they learned how to count by tossing rocks in a stream. Or practiced math by calculating tree rings. Imagine if they cared for and explored our actual planet as much as the virtual ones they inhabit on their iPads. 🤔
That's what my mom does.
She takes kids outside and lets them learn from mother nature. How to play, how to count, to understand, to be kind, to dig deeper, to try again, to brush it off, to find a solution, to feel important – to feel empowered to create change.
Just this past month my mom organized the Western MA Youth Climate Summit, an event she co-founded two years ago to educate and empower local high school students to take action in their communities to mitigate climate change.
My mom is one of the happiest and most fulfilled people I know, even though her work pays next to nothing and requires wiping snot off little kids' faces and being compassionate with parents who wear high heels for a hiking field trip, and staying eternally optimistic in a climate that is well, melting.
My mom can't operate an iPhone to save her life but she's the smartest person I know. And the first person I would pick if I had to choose teams on Survivor.
The work she does is literally saving the future. Both the planet — and the people who will inhabit it. She belongs amongst Title Nine's #giftedwomen for sure, and is one that I know will change the world for the better, for all of us.
Read about all the #GiftedWomen winners on Title Nine's blog.
Click here
to return to full list of blog entries. Or chose a specific Blog category below.
Blog categories