30Boltwood Earth Day Dinner to Benefit Hitchcock Center
April 20-April 22, 2018
Nightly 5:30pm until 10pm
Come celebrate Earth Day weekend with 30Boltwood at the Lord Jeffery Inn!
Chef Kevin Doubleday and his team have put together a special menu for the benefit of the Hitchcock Center, featuring seasonally sourced, vegetarian and non-vegetarian selections from our local farms. A portion of the proceeds from this delicious three-course prix fixe menu will benefit the Hitchcock Center.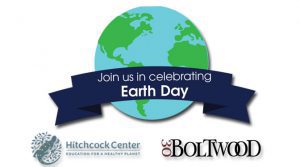 30Boltwood shares with the Hitchcock Center a deep commitment to the environment and remains dedicated to sourcing from local purveyors and supporting local farmers. The special menu is an opportunity to showcase the abundance of seasonal produce and proteins available to in the Pioneer Valley. 30Boltwood's environmental commitment extends beyond the plate and into the physical plant.
As a LEED Silver certified building, the Lord Jeffery Inn is one of the greenest in the Pioneer Valley, having also earned the 2014 Sustainability Champion Award from Historic Hotels of America. Using a geothermal ground source heating and cooling system, water-efficient landscaping, energy efficient plumbing and electrical fixtures, regionally manufactured and recycled content materials and CO2 fresh air activated systems in all of their meeting rooms, the Lord Jeff shares many of the sustainability measures implemented in the new Hitchcock Center.
We are excited to partner with 30Boltwood to pair their contemporary, locally sourced farm-to-table menu with our world-class environmental education center and programming that serves over 10,000 children, youths and adults each year.
Please join us for a delicious full-service dining experience and help support environmental education for people of all ages and abilities!
Reservations are strongly encouraged:  (413) 835-2011
Click here
to return to full list of blog entries.
Click here
to return to full list of eNewsletter entries.