April Vacation Camp Explores Wind, Plants, Ponds, Beavers, and Rivers!
By Patrick O'Roark
Editor's note: April Vacation Camp is open to children ages 6-10. Although this article features activities of the Explorers (ages 8-10), the Young Naturalists (ages 6-7) had an equal amount of fun exploring themes of seeds, insects and pollinators, birds in flight, amphibians and reptiles, and a visit to Groff Park.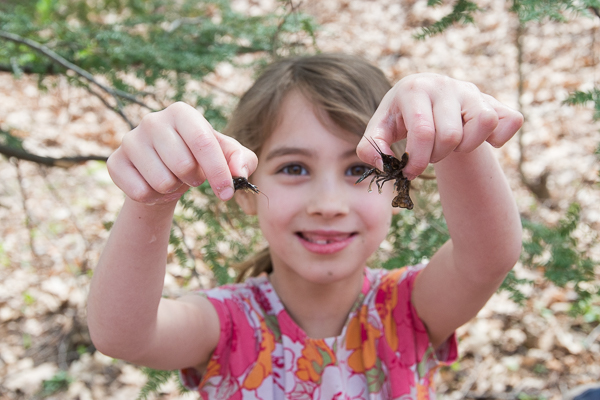 The arrival of spring brings many wonderful and welcome things: warmer weather, nesting songbirds, and wildflowers among them. If you're a student it also brings another very welcome event, April vacation! During the week of April 18 to 22 many students in the region enjoyed a break from their studies at school. Some families take this time to vacation together, but not all parents can get away from work and other responsibilities. The Hitchcock Center offers a camp during this week to accommodate these folks, and for the kids that come it is an opportunity to engage with science and nature through games, crafts, songs, and outdoor exploration. At Hitchcock vacation camp the focus on learning through fun.
This year I was one of the two teacher-naturalists working with the older of the two age groups, including students from about 2nd to 4th grade. We had a great time exploring five different themes in five days! This is one of the things that sets our April and February vacation camps apart from our summer camps – rather than committing to a whole session students can sign up a la carte, coming for any number of days. From the educators' perspective this means starting each day fresh. We might have several new students, so continuing a theme from the previous day wouldn't be fair to them. This can be limiting in some ways (multi-day experiments lose value), but ultimately is an opportunity to do five different daylong programs. Personally, I love this dense variety of themes that vacation camp offers.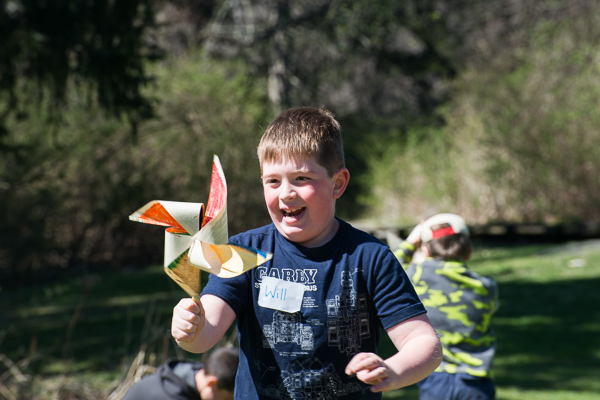 So what did we learn about during April vacation camp 2016? On Monday we learned about wind and the different ways plants and animals use wind to get around. We caught the wind atop Bramble Hill Farm with our home made garbage bag kites, and explored different wing designs with a paper airplane building lesson.
On Tuesday our focus was on plants, what structures they have that help them survive, and how our own bodies have similar structures. For our Franken-plant activity we roamed Larch Hill collecting samples of plants that we later combined into our own super plants. Thorns from a multiflora rose bush, bark from a fallen white pine branch, wild grape vine and spruce cones were among the plant parts that were stitched together with the students' imagination.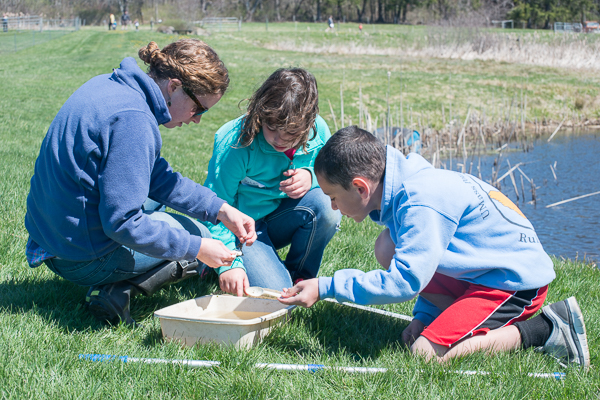 Wednesday was our pond themed day, and we discovered the many creatures that live in our nearby pond that are all well adapted for the aquatic life. Where we would need a scuba tank, the diving beetle has a bubble of air on its back. Where we would need oars for our canoe, the backswimmer has long paddle arms. We met these and other pond creatures up close, and later used clay and craft materials to invent our own pond creatures.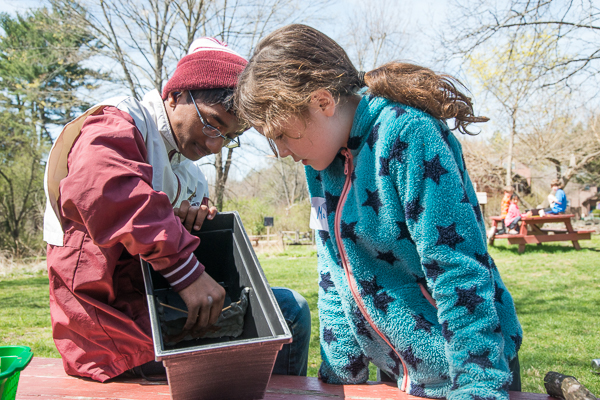 Thursday and Friday were both related to water, but from two different perspectives. On Thursday we took on the role of beavers, learning about their amazing adaptations and lifestyles that allow them turn a stream into a pond. Then we tried out our new Busy Beaver Engineering Design Challenge and created a miniature river landscape with bridges, dams, and buildings designed to withstand floods and hurricanes. On Friday we experienced a real river with a walking field trip to Groff Park and the Fort River. While there we waded in and searched for crayfish and freshwater mussels, and tested out different mini-boats made with sticks and pinecones.
When I was still a student I loved April vacation. A break from school just when spring was burgeoning gave me a preview of the outdoor freedom I could look forward to during summer vacation. Now I look forward to April vacation for the opportunity it gives me to bring kids on a five-day blitz of nature exploration. I'm already looking forward to next year.
Patrick O'Roark is an Environmental Educator at the Hitchcock Center. He leads school field trips, residencies, homeschool programs, and has served as a summer camp counselor for several summers. Patrick is also the live animal caretaker for the teaching animals at the Center.
Click here
to return to full list of blog entries.
Click here
to return to full list of eNewsletter entries.