Building for the Future Campaign Update 12-19-17 Completing the Vision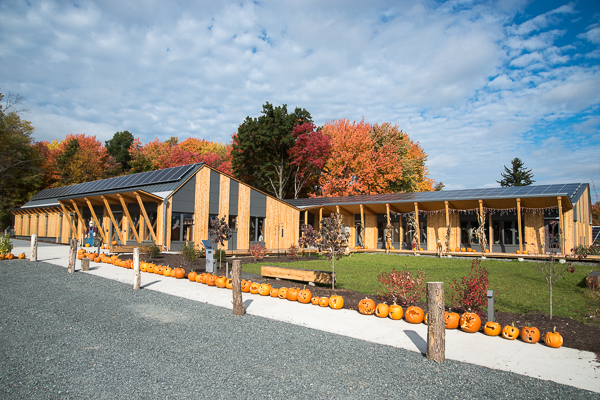 By Julie Johnson, Executive Director
December 19, 2016
Our initial $5.8M goal was ambitious, but thanks to the amazing outpouring of support from our local community, private foundations, and state and federal funding sources, we successfully achieved this fundraising goal! THANK YOU!
We have successfully concluded phase one of our campaign by creating an innovative new environmental learning center to support our expanded program aspirations. Our center is serving as an effective teaching tool, publicly demonstrating the principles of ecology and the practice of sustainability.
Now we enter phase two of our Building for the Future campaign as we implement an assertive plan to maximize our ability to promote observation, imagination and creative learning opportunities throughout our facility – both indoors and outdoors.
Phase two of our Building for the Future campaign seeks to raise an additional $850,000 to complete our vision as a world-class environmental education center for people thirsting for more knowledge, greater connection, and pathways to a more restorative relationship with nature.
We now enter a period of rigorous testing and documentation to meet over 20 Living Building Challenge performance imperatives for full certification.
Our design-build team (designLAB Architects and Wright Builders) will continue working with the Hitchcock Center during this pilot year to monitor and fine-tune our building systems to meet these performance imperatives: ensuring that the building actually achieves net zero energy and water over 12 continuous months; maintaining healthy indoor air quality through regular testing; securing a one-time carbon offset to account for the total footprint of embodied carbon (tCO2e) from construction; and placing an equal amount of land developed away from our site to be set aside in perpetuity as part of a habitat exchange.
We also turn our attention to optimizing our outdoor and indoor learning spaces for maximum educational value and beauty. Critical elements to this plan include:
Creating an interpretive network of nature trails that are accessible to people with a wide range of physical abilities, and seeking to attract traditionally underserved communities in having positive experiences with our natural world.
Transforming our grounds and outdoor spaces into inspirational and educational teaching and demonstrations gardens, ecological restoration areas, and places for ongoing inquiry and citizen science research.
Implementing a state-of-the-art digital dashboard: an interactive exhibit that allows visitors and program participants to engage with our pioneering new building systems, like our energy and water systems. These real-time performance indicators will be available remotely on our website as well as in person in our building, and will serve as a portal to our new K-12 curricula and program initiatives to promote a greater understanding of how we can use nature's wisdom to create more ecologically resilient communities.
Provide more hands-on learning opportunities for inquiry, discovery, and imagination for children through innovative and interactive children's exhibits, displays and play areas, both indoors and outdoors.
We now call on our community's continued generosity to complete our vision. Help us to continue our momentum in creating a world-class environmental learning center, one that best serves our mission of education for a healthy planet. We need to reach all members of our community to create real change for our future. Our new "living" Hitchcock Center is your home for inspiring current and future generations of environmental change agents. Please join us.
You can be a part of our Building for the Future campaign by making a donation today. Thank you.
Click here
to return to full list of blog entries.
Click here
to return to full list of eNewsletter entries.