From Zero to 100 with Monarch Butterflies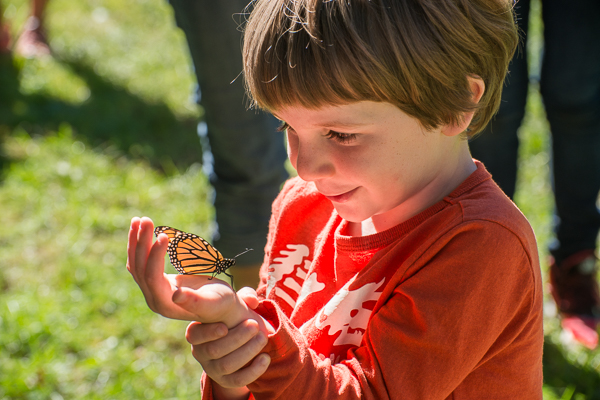 By Jennifer Unkles
The Hitchcock Center has invited families, girl scout groups, and school groups to participate in an annual citizen science ritual – Monarch Tagging. I, along with my son Thomas, have guided many hands through the placement of tiny tags on the colorful butterflies before their long flight – up to 3,000 miles – to overwintering sites in Mexico. Scores of children have run exuberantly through local fields to catch, tag, and release these beautiful butterflies in this annual event…when their population numbers are not in decline.
The tagging program, designed by Monarch Watch, has seen ups and downs as population numbers have varied. The declining population of monarch butterflies has received important attention in the last few years due to a combination of factors including pesticide use and habitat loss. The total area occupied by monarchs in the oyamel fir forests – overwintering sites – in Mexico was at an all time low the last 2 winters. Hitchcock Center's participation in the Monarch Watch tagging program has contributed to the scientific study of this amazing migration and what may be causing the decline. We are all hoping for higher numbers this year.
Each year the Hitchcock Center offers at least 2 tagging programs, free, to the public. The goals are to let people know about this citizen science project, open to everyone through Monarch Watch, and to demonstrate how it is done. More importantly, the program gets families and individuals out in the clover fields of Amherst and Hadley looking for monarchs to tag and learning about a fascinating natural wonder. We love the view of children running through the fields with nets ready to catch a monarch, or anything else they can get that net on. This year during one of our programs, we got to witness the metamorphosis of a caterpillar into a chrysalis right before our eyes! Watch it happen in real time.
In 2013 we saw no monarchs, we had none to demonstrate with, and we left worried about the future of the monarch butterfly. That was the same year there was a Presidential Memorandum directing federal agencies to devote resources to offset the decline in monarchs and pollinators. That was also the year the U.S. Fish & Wildlife Service began a review of whether monarchs should be listed as endangered. In announcing that review, the agency noted that threats to the species "include habitat loss – particularly the loss of milkweed, the monarch caterpillar's sole food source and mortality resulting from pesticide use." That study is still in progress.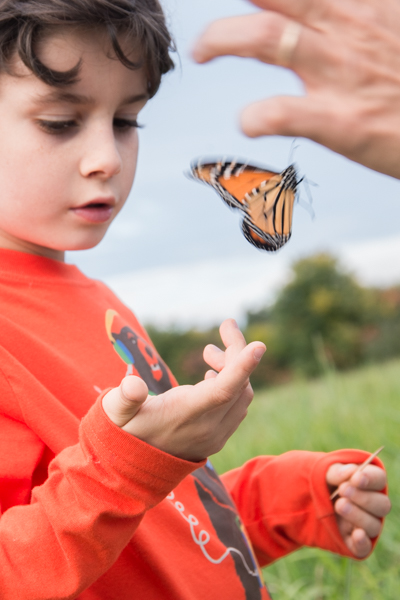 The 97 participants in the Hitchcock Center's tagging programs this year certainly witnessed a modest increase in numbers and left a little less worried – we were able to tag 100 butterflies from those caught during the program and those reared from caterpillars. We are elated that some of our volunteers found caterpillars this year and raised them to adulthood. These were tagged and released in our butterfly garden with a hope they make it all the way to Mexico. Good luck!
Want to learn more about monarchs? Visit Monarch Watch.
Can you help create a monarch waystation? 
Curious about the progress the monarchs are making toward their wintering sites in Mexico? If tagged monarchs are netted, observers can report the tag numbers to Monarch Watch and we can learn about their progress.
How did the monarchs in mid-migration fair thru Hurricane Patricia? 
Learn about a step being taken by monarch protectors in Mexico to protect the butterflies from the perils of traffic on their migration routes. 
Jennifer Unkles is and environmental educator. She also maintains detailed ledger records for all the Center's financial matters, prepares monthly and annual financial statements, and oversees the preparation of the Center's payroll.
Click here
to return to full list of blog entries. Or chose a specific Blog category below.
Blog categories