Get Out! Exploring the Wonders of our Local Parks
December 29, 2019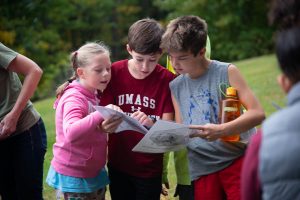 The Hitchcock Center received a USDA Forest Service Every Kid in a Park grant to get local 4th graders outside and connected to nature through hikes in Skinner State Park this past fall. Local parks in the Pioneer Valley provide a valuable resource for nature exploration, exercise, and recreational activities. However, not all children have the opportunity to visit these beautiful resources, despite how close they are. The grant provided funding for Hitchcock educators to lead 15 two-hour inquiry–based natural history and geology field trips for 375 fourth grade students, fifteen teachers, one principal.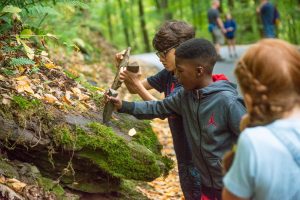 Each field trip included a hike along several trails in the park including a portion of the New England Scenic Trail. Classes hiked from the Halfway House to the Summit of Mount Holyoke, returning via another trail to their buses below. Along the way and at various stopping points, students observed and discussed geologic processes including tectonic plate movement, earthquakes, lava flows, glaciers and erosion, and completed hands-on explorations. The core content of the field trips allowed teachers to meet the Massachusetts Earth and Space Sciences standards for their 4th graders while out in nature.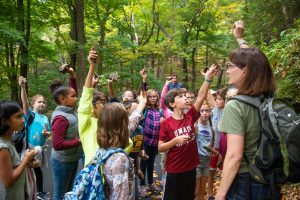 At the Summit, students learned more place-based geologic history, observing Valley landmarks and landforms. They discussed and learned how the Connecticut River Valley was formed and were able to imagine the expanse of glacial Lake Hitchcock.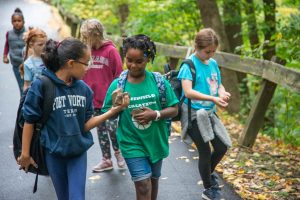 In addition to the field trip visit, each student received a Get Out! Exploring the Wonders of our Local Parks brochure, featuring a scavenger hunt of local flora and fauna to find and explore, a checklist of what to take on a hike, and a map of local parks. A free family park pass was also included for each student.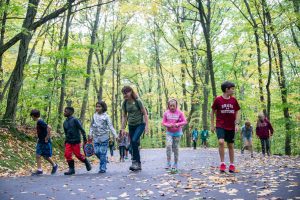 Schools participating in the program included: Pelham Elementary, Wildwood School (Amherst), Fort River School (Amherst), Sunderland Elementary, Sullivan School (Holyoke), Shutesbury Elementary, Leverett Elementary, and Crocker Farm School (Amherst). Many family members attended as chaperones, and for some it was also their first time to the park.
Click here
to return to full list of blog entries. Or chose a specific Blog category below.
Blog categories