Grants Provide Important Water Educational Opportunities in Agawam and Chicopee Communities
In partnership with two municipalities and the Pioneer Valley Planning Commission, the Hitchcock Center will receive a total of $13K to implement a comprehensive stormwater education project for fifth graders in Chicopee and Agawam. Funding will support Hitchcock Center educator Helen Ann Sephton to lead a series of virtual educational programs for every fifth-grade classroom in both towns. The material is designed to deepen students' awareness and understanding of major storm water and water quality issues in their community.
Science comes alive as students explore a real-life stormwater management project in their town, funded through the Massachusetts Department of Environmental Protection. This possibility arises from the Funder's supports of not only the major capital improvement to a stormwater management system in their town but also an educational component to help local communities better understand water issues in their neighborhoods. Adept with the Massachusetts Science Technology and Engineering Curriculum Frameworks, the Hitchcock Center is uniquely suited as a partner in this work, having collaborated on similar projects in Amherst and Holyoke schools.
Hitchcock Center educator Helen Ann Sephton will develop and implement three standards-based modules that will combine remotely accessible resources such as project and lesson ideas, teaching videos, and a 45-minute live stream virtual session for each classroom.
Town of Agawam
In Agawam, 275 students in sixteen fifth-grade classrooms at the Roberta G. Doering School on Main Street will learn about stormwater as part of the grant- funded partnership with the Hitchcock Center for the Environment, the Town of Agawam, the Enchanted Circle Theater (ECT), and the Pioneer Valley Planning Commission (PVPC) as part of the Town's Stormwater Master Plan. The groups will work with students between January and March, 2021
Situated near Agawam's Environmental Justice Area (EJ) near the confluence of the Westfield and Connecticut rivers, the school and its students are located in the perfect setting to discuss the impacts of impervious cover such as pavement and concrete, lack of tree canopy, and stormwater runoff management.
The project will culminate on Earth Day with a community celebration and public storm drain art project. Students will present a gallery of their work and share what they have learned about the Stormwater Master Plan project and its importance to the community. Selected art projects will be painted on storm drains.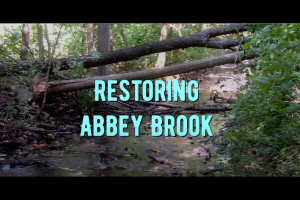 City of Chicopee
The City of Chicopee received a grant to improve water quality in Abbey Brook and transform the landscape around two ponds in Szot Park. Working partners on this grant include the Pioneer Valley Planning Commission, local landscape architecture firm Tighe and Bond, and the Hitchcock Center for the Environment.
The project, Stormwater Management and Stream Restoration for Water Quality in Lower Abbey Brook, involves the deconstruction of a dam at Szot Park in Chicopee in order to help restore Abbey Brook by reducing the quantity of pollutants entering the brook that then flow into the Chicopee River and on to the Connecticut River.
Hitchcock Center's contribution to this important ecological project is to provide three virtual field trip modules for fifth-grade classrooms in the elementary schools closest to Szot Park: Bowe Elementary, Fairview Elementary, and Barry Elementary schools.
These modules are intended to engage students in a local project of community value. Through the three modules, students will explore stream ecosystems, design and build a simple system to clean water, and learn about why this project is important to their community — both socially and ecologically.
As these projects get underway, look for more information in upcoming e-newsletters and on our blog.
Click here
to return to full list of blog entries. Or chose a specific Blog category below.
Blog categories