Greening Our Rivers in Greenfield!
By Patty O'Donnell, Hitchcock Center Educator
November 6, 2015
Thanks to the generous support of Greening Greenfield – a local non-profit committed to building a more sustainable Greenfield – and the Greenfield Public Schools (GPS), Hitchcock Center educator Patty O'Donnell was able to participate in a collaborative watershed education initiative with all 5th grade classrooms in the district in September.
The program was designed to support the GPS efforts to revise curriculum to align with the Revised Massachusetts Science and Technology/Engineering Standards, and the vision of Greening Greenfield and Connecticut River Watershed Council (CRWC) to introduce students to local sustainability initiatives. It included three components: a preparatory assembly presented by the CRWC, Hitchcock Center classroom visits to every 5th grade classroom in GPS, and student participation in the CRWC's Annual Source to Sea Clean-up on September 25, 2015.
In mid-September, Patty attended an assembly for 5th graders at the Greenfield Middle School presented by Andy Fisk, CRWC Executive Director, and David Boles, organizer of the Green River Cleanup to provide an overview of the Connecticut River watershed, and to prepare students for the clean-up. Andy and David did an amazing presentation, sharing slides, videos, and samples of actual trash that had been collected from the river over the years, including several tires. Students learned tire math, and calculated that all the tires collected in a stack would measure almost a mile high! They were amazed at the assortment of trash that's been taken out of the Connecticut River and its tributaries, and instructed on how they would be gathering data during the clean-up – that's Citizen Science!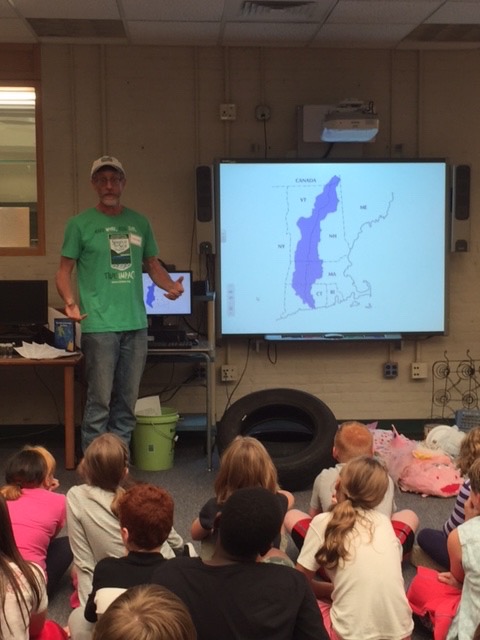 For the next several days, Hitchcock Center educator Patty O'Donnell visited all seven 5th grade classes in the Greenfield Public Schools, using the Enviroscape watershed model as an educational tool to connect water cycle science concepts to environmental stewardship. During the class demonstrations, students helped to add model buildings (neighborhoods, factories, farms, wastewater treatment plants), trees, native animal replicas, and mini-vehicles to create a Greenfield version of the Connecticut River Watershed. 'Pollution' was then added to the landscape – pesticides, herbicides and fertilizer (red and green sugar crystals), road salt/sand, and dog poop (chocolate jimmies) – to model real-life sources of contaminants to our waterways.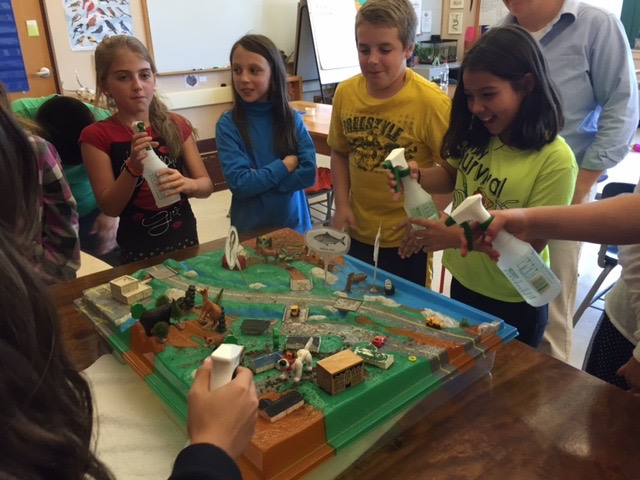 Once assembled, all kids had a chance to use spray bottles to mimic a rainstorm on their watershed, and observe how pollutants are transported into waterways via surface-runoff. They loved it, especially the dog poop running down and clogging the storm drain! The most salient and teachable moments are after the 'storm', when students make observations about the downstream impacts of the choices we make. The river running many colors, filled with sediments and soapsuds is quite visually impactful for students. Their immediate concern was the impacts on all the animal life in the watershed, from black bear to beaver to frogs and anadromous fish species, to name a few.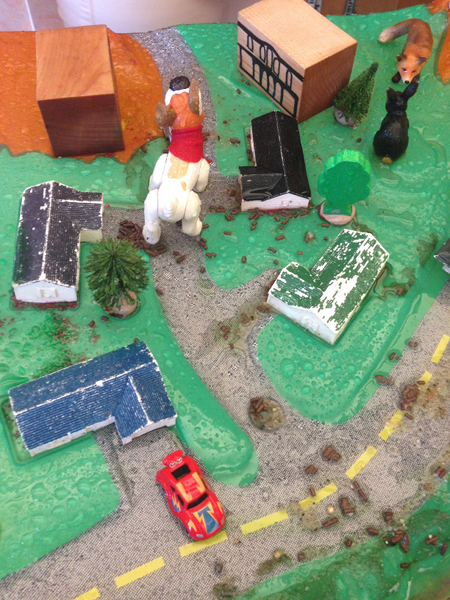 Patty followed up the Enviroscape demonstration with a read-aloud of the book A River Ran Wild by Lynne Cherry, a story about the environmental history of the Nashua River, from pre-colonial times to modern times, which is synonymous with the history of the Connecticut River. It was a perfect follow-up to the activity, and pulled together the long history of the impacts of human activity on our waterways.
The assembly with CRWC and Hitchcock Center classroom visits created a seamless transition to kids' participation in the Source-to-Sea River Clean-up on Friday, September 25. Feedback from schools and participants was very positive. Fortunately weather was on our side – it was a beautiful fall day to foster the next generation of river stewards!
View a video of this work with the Holyoke Public Schools:

Patty O'Donnell is an Environmental Educator at the Hitchcock Center. She plans, develops, and teaches curriculum for Hitchcock Center K-8 School Programs, including field trips, classroom presentations, residencies, and professional development for teachers. She is also actively involved with statewide educator networks to assist districts in transitioning to the Revised MA Science & Technology/ Engineering Standards, currently in Draft form.
Click here
to return to full list of blog entries. Or chose a specific Blog category below.
Blog categories