Help Us Raise $10,000 for Scholarships on Giving Tuesday

By Marcus Simon
Giving Tuesday is today, November 27th!
Giving Tuesday is a global day of online giving – a chance to give back and strengthen our commitment to our community.
This year, there is no Valley Gives Day, so the Valley Gives on #ValleyGivingTuesday!
We have an exciting opportunity: a $5,000 match to support our Scholarship Fund.
It couldn't come at a better time – our demand for Scholarship this past summer increased by 41% over last year. With the support of our donors, we were able to award nearly $9,000 in scholarships and financial aid to 24 children and youth.
We need your help to raise $10,000 to meet the demand on our Scholarship Fund for the coming year.
Every dollar you donate up to $5,000 will be matched by naturalist Nancy Goodman, in memory of Elizabeth Farnsworth, dynamic educator and biologist. Elizabeth's boundless drive to get people excited about plants was coupled with a deep appreciation and value for the balanced interconnection of life all around us.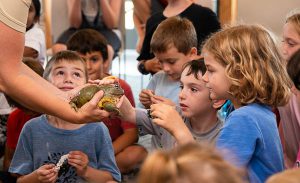 Helping to ensure we develop the future Elizabeth Farnsworths of this world, our Nature Summer Campers spend their days engaged in outdoor adventures: guided hikes and field investigations, cooperative games, art projects, singing, science experiments, and more, all designed to nurture their natural curiosity and wonder.
Our Scholarship Fund is one of the best ways we make our programming accessible to more of our community.
We need to give budding minds a gateway to ignite their curiosity, expand their knowledge, and of course, have fun and play.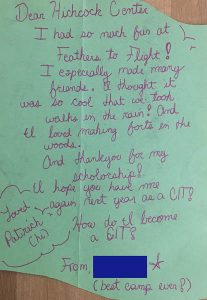 This Giving Tuesday, on November 27th, please give the gift of possibility (link to donation page) to a child in our community.
Your gift, of any size, will help to give 24 campers the opportunity to be their best selves, to discover their passions and expand their horizons. The future of our planet depends on building our next generation of engaged and environmentally literate problem-solvers.
Your donation can make all the difference. Thank you!

Click here
to return to full list of blog entries. Or chose a specific Blog category below.
Blog categories