Heroes for a Healthy Planet Award Honors Northampton High School Students
The Hitchcock Center for the Environment honored Northampton High School students: Adia Bennett, Saraphina Forman, Willa Sippel, and Jordan Winsor with its Heroes for a Healthy Planet Award at its Salamander Sunday Brunch on Sunday, November 17, 2019.
The Hitchcock Center's Heroes for a Healthy Planet Award acknowledges a person, people, family, organization or institution in our community that has made a significant contribution toward increased knowledge, understanding, and stewardship of our local environment.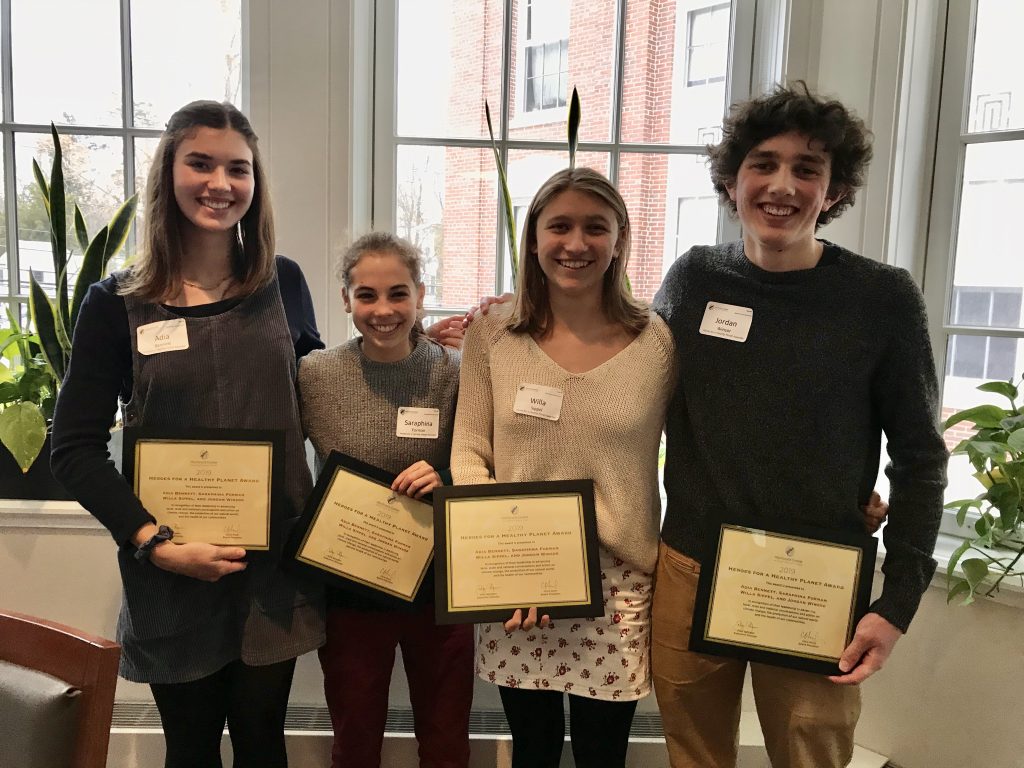 Adia, Saraphina, Willa, and Jordan's work has exemplified the values and mission of the Hitchcock Center – to educated and to inspire action for a healthy planet – through their involvement in local, state and national conversations on climate change. Between the four, they have led, and been involved in the Northampton High School Environmental Club, have helped organize Western Massachusetts and state-wide Climate Strike actions, have founded and helped with organizing for Sunrise Northampton. They have also participated in the Western Mass Youth Climate Summit co-created by the Hitchcock Center and Mass Audubon's Arcadia Sanctuary.
About their work, Susan Sullivan, Northampton Environmental Club Advisor says, "Willa, Adia, Saraphina and Jordy are positive voices for the environmental youth activism of today. Their constant communication with environmental and community groups outside of Northampton High to make strong statements and organize protests on the need for immediate climate action remind us that climate action is civic action and they lead that movement very well."
The Salamander Sunday Brunch is an annual event designed to help raise funds for the Hitchcock Center. The brunch has raised $47,000 to support the center's environmental education programming.
Past recipients of the Heroes for a Healthy Planet award include:
2016—Representative Ellen Story for her service to the community and her commitment to seeking funding and support at the state level for the Center's new "living" building has been unwavering. The award is a recognition of Ellen's more than 24 years of dedicated, effective public service that has created a more socially just, culturally rich, and ecologically resilient community.

2014—Mickey Novak, project leader of the Richard Cronin National Salmon Station for his decades of tireless dedication to environmental education and conservation of aquatic life. His hands-­‐on experiential education with thousands of local children has inspired many students to go into the field of environmental conservation. The Hitchcock Center commends him for being an unparalleled resource for the entire Pioneer Valley through his commitment to getting children outside and connecting with the living systems that sustain us all.
2013—Former Representative John Olver (MA-1), Legacy Award, for his leadership as a champion for the protection of our waterways, our land and our air, his dedication to energy conservation and public transportation, and his equally stalwart defense against those who would roll back our existing environmental laws & John Green, Jr., Naturalist, Photographer, and Educator for his significant and lasting contributions to the field of environmental education through natural history interpretation and photography, his deep sense of responsibility to environmental stewardship, and his generous spirit and inclusive approach to teaching and mentoring a wide range students.
2012—The Camera/McKenna Family for their multi-generational passion for and dedication to protecting the environment through nature exploration, education and civic engagement, making lifelong learning and environmental literacy a core family value.
2011—Principal Margaret Riddle and the Faculty of the Robert K. Finn Ryan Road Elementary School for their exceptional passion for and dedication to creating a strong ethic of nature exploration and environmental care in the teachers, students, and parents of their school.
2010—Birding expert Scott Surner for his lifelong passion for and dedication to the birding world, resulting in a growing body of highly knowledgeable and active citizens who are committed to protecting and preserving important bird habitats throughout New England.
Click here
to return to full list of blog entries. Or chose a specific Blog category below.
Blog categories