Hitchcock Center Participated in Professional Exchange with Morocco
In February, the Hitchcock Center hosted an international professional fellows exchange funded through the U.S. Department of State's Bureau of Educational and Cultural Affairs, facilitated by U.S. partner Institute for Training and Development (ITD) in Amherst. Focused on Civic Engagement, this Professional Fellows Program (PFP) seeks to enhance leadership and professional skills; build lasting partnerships; promote mutual understanding, collaboration and idea sharing; and support mid-level emerging leaders in their goals on civic projects in their home countries.
The Hitchcock Center welcomed Taha Younes Arrad from Casablanca, who joined us virtually due to COVID-19, to complete his fellowship with Communications and Living Building Coordinator, Jessica Schultz. Taha is General Secretary of Association Âme d'Arts in Morocco, which is working to build an arts economy through creative materials re-use. The project works at all levels of society — from children and schools to community groups and national ministries (the Morocco Ministry of National Education, Vocational Training, Higher Education, and Scientific Research and the Ministry of Culture and Communication). They're even present at festivals!
Taha's goals driving his two-week exchange with us included:
To meet and exchange with artists, associations, groups and collectives that work on artistic recycling, a community project that he is leading in his country.
To meet and exchange with policy makers in the field of environment protection.
To explore the legal framework in the U.S. on environment protection.
To explore the organizational processes and strategies needed to create an environmental education institution like the Hitchcock Center, which serves as a possible model for new Center in Casablanca.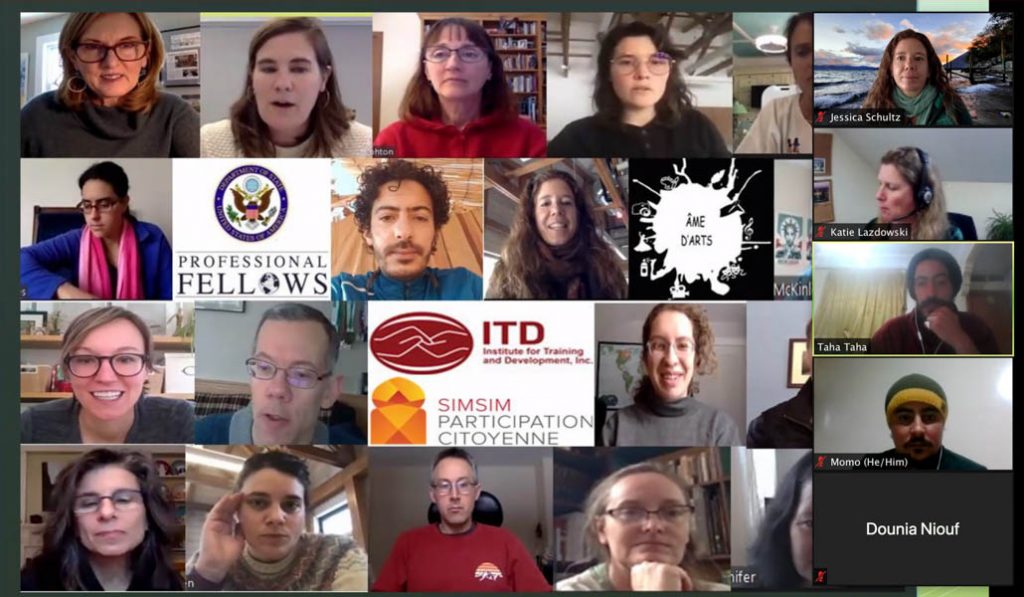 While virtual, Taha participated in Hitchcock's outdoor nature play programs via Zoom, interviewed key Hitchcock staff, met with Massachusetts state officials at the Executive Office of Energy and Environmental Affairs and Department of Environmental Protection, learned from organizations facilitating art projects with recycled materials ranging from the newly emerging Western Mass Creative Reuse Network to the well established and growing Turnip Green Creative ReUse in Nashville, Tennessee, as well as a recycled materials artist in Cincinnati, Ohio.
Participants in the PFP exchange also joined a 10-session series of virtual programs provided by ITD in the Fall of 2020 to help prepare them for their placement with American nonprofits and offer tools and strategies to develop the action plans that will help guide a new phase of their work in the year ahead and beyond. Taha's project seeks to initiate a partnership-building process between Moroccan and American Non-Governmental Organizations in the development of environmental education through arts and re-use. It will also gather professionals who work full time in artistic recycling and establish an exchange of knowledge to facilitate wider visibility of this new profession. It is hoped that such exposure will lead all members of the community to active civic engagement, from decision making to activities to implementation for the shared good.
This PFP exchange is the third the Hitchcock Center has hosted over the past 10 years. The prior two exchanges, hosted by Education Director Colleen Kelley, featured fellows from Mexico, Peru, and Uruguay and focused on the environment and sustainability. In a world in which environmental threats are increasing, working together in partnership through the exchange helps us not only to share and mentor solutions, but also to grow and to offer hope.
Sharing mutual work with fellows during the exchange program creates long-lasting cultural and professional connections, as well as friendships. The Hitchcock Center staff will watch the fellows pursue their work to solve problems and develop organizations and programs in their home countries, helping whenever they can.
Click here
to return to full list of blog entries. Or chose a specific Blog category below.
Blog categories