Hitchcock Nature Summer Camp is Growing!
By Jeff Mazur and Katie Koerten
The Hitchcock Center is excited to offer our first Nature Summer Camp at our new living building in 2017! Our new center, with three classroom spaces, allows us to add a new age group, the Eco-Investigators. The new group will help us respond to popular demand, allowing more families the opportunity to experience the joy of Hitchcock's camp, while maintaining a strong and inquisitive learning environment for all of our campers. The ages of all groups will shift slightly to accommodate this expansion.
The new age groups will be:
Young Naturalists: Ages 5-7, entering grades 1-2
Eco-Investigators: Ages 7-9, entering grades 3-4
Nature Explorers: Ages 9-11, entering grades 5-6
Leaders in Training: Ages 12-14, entering grades 7-9
Families can choose between themes for this summer which include: Woodland Magic, Wild About Water, Feathers to Flight, Animals that Build, Rube Goldberg Machines, and our rewarding Leadership Training Camp. We look forward to seeing many
familiar faces this summer, and welcoming new families. Camp registration opens online for members on February 2, 2017, with non-member registration opening February 16, 2017. To renew your household's membership before registration opens, visit our online giving page.
Each year, we also work to offer scholarships for nature summer campers who might otherwise not be able to attend our camp. This year, we aim to provide 18 campers with scholarships. If you would like to make a gift to our scholarship fund, please visit our scholarship fund page.
In 2016, we had a wonderful final camp season at the Larch Hill Conservation Area. With nearly 200 participants and eight staff members, it was our highest-enrolled season yet!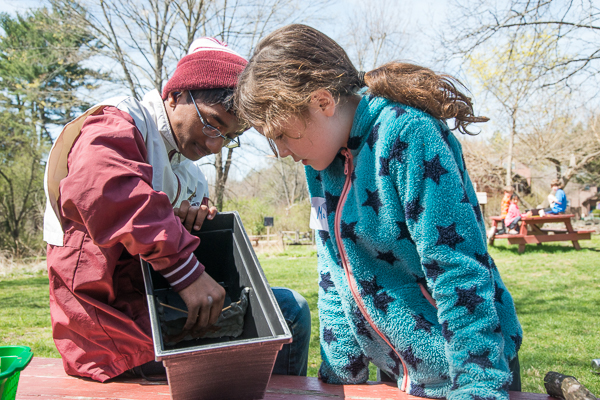 Thanks to generous contributions from members and community organizations, we were able to offer scholarships and financial aid to 17 campers. While most campers were from Massachusetts, we also saw participants from Arizona and Italy. Session themes included: No Place Like Home; Ew, That's Gross; What Would Nature Do; Clues to Nature's Past; Rube Goldberg Week; and Leadership Training Camp. Counselors Patrick, Hannah, Sierra, Martha, Peter and Josia guided campers through an exciting summer of hands-on learning and exploration in our environment. The Hitchcock Center also welcomed a new camp director, Jeff Mazur, so that director Katie Koerten could take family leave for part of the season before rejoining camp part-time. You can check out 2016 season photos here.
A few highlights of the
opportunities included in nature summer camp 2016 included: hiking, ponding, and exploring at Amethyst Brook Conservation Area, Chapel Falls, Mt. Pollux, Old Friends Farm, Bramble Hill Farm, Mt. Toby, Mt. Holyoke, and Groff Park; completing a beaver dam engineering challenge, and building a mock village which was flooded by a raging river; touring the Beneski Museum at Amherst College and the Durfee Conservatory at UMass; a photographic journey with photographer and birder John Van DeGraaff; and playing an all-camp game of Predator Prey in which campers pretended to be hawks, snakes, and mice.
We can't wait for our 2017 season! See you then!
Click here
to return to full list of blog entries. Or chose a specific Blog category below.
Blog categories