Hitchcock Receives 2018 Paul Winske Access Award from Stavros
By Jessica Schultz
On October 25, 2018, the Hitchcock Center was pleased to be honored with the Stavros' Paul Winske Access Award for our efforts to design accessibility, in all its forms, into our building design, programming and daily operations.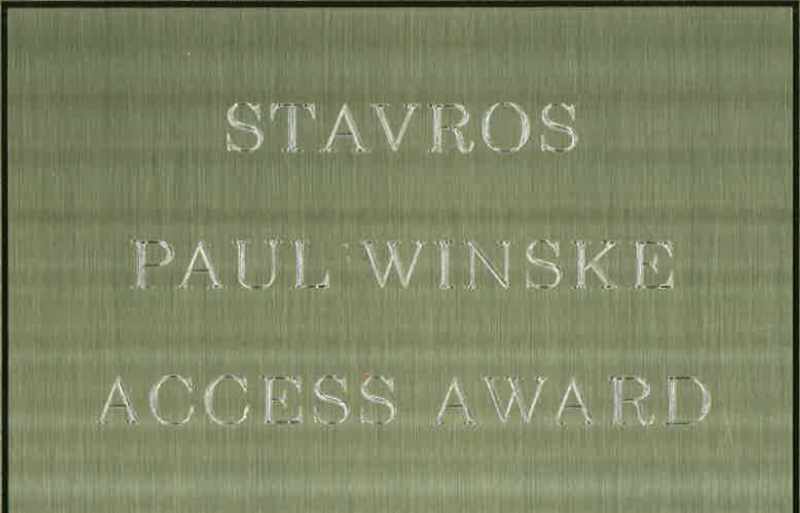 It is a given that when we began construction of our new building 2015, we would be required to meet the physical accessibility requirements of the Americans with Disabilities Act (ADA). Although there have been many clarifications on the interpretation of the law, as well as a reauthorization of the act, the Hitchcock Center knew it needed to go beyond the ADA by valuing inclusive thinking.
The Hitchcock Center is committed to providing equitable learning experiences for all people. In what ways is the Hitchcock Center accessible and inclusive?
Program accessibility: Hitchcock Center works to make environmental education programs accessible to all, regardless of income level with a mix of free programs, low cost programs, and scholarships, through the support of our local membership, business sponsors and grants. We also participate in the Card to Culture program  which allows holders of EBT cards to access free and low cost opportunities at the Hitchcock Center, including membership, community and children and family Programs.
Transgender inclusivity: During design our team had a lot of discussions about bathrooms. Did we have enough to serve our visitors adequately and how could our bathrooms be gender neutral. The first question was easily resolved, but the second ran up against requirements of the Massachusetts' plumbing code. This code requires bathrooms with two or more stalls to be identified as gender specific – male or female. After much discussion and commitment to providing options, we decided to install locks on the entry doors and posted a sign letting users know that if not feel comfortable using the bathrooms identified in this binary way, they could opt to lock the door and convert the bathroom into a private single use bathroom. It is not an elegant work-around but until codes change, we are obligated by law to labeling our bathrooms in this way.
Physical accessibility: All of the Center's public and staff spaces are on one level and are accessible to those with mobility challenges. Educational displays are at a level that is readable from a seated or standing position. Front doors have automatic paddles, we can prop other doors open as necessary. Both bathrooms are physically accessible. While our basement is not accessible, for those who wish to see our building systems there, we have developed a pictorial guide to these systems and are available to discuss the systems in detail at any time.
Socioeconomic inclusivity: Through grant assistance, approximately 86% of the K-12 schools we work in are Title I schools comprised of a majority of children and youth from low income families., Through business underwriting, approximately 50% of our adult community programs are offered at low and no-cost. Our summer camp scholarship program provides children in need with opportunities to connect with nature and others.
Trail accessibility: The next phase of the Hitchcock Center trail development plan will use Mass Audubon's All Persons Trails: A Manual of Guidelines and Best Practices for Developing and Operating Universally Designed Interpreted Trail Experiences (2016). This will universally designed interpretive features including educational stops, wildlife viewing boardwalks and platforms, navigation resources including audio directions, guide ropes, curbing, and handrails as well as create more inclusive outdoor experiences for all, including individuals who have not traditionally had independent access to natural areas and interpretive experiences. .
Language accessibility: Our building tour program has been offered with Spanish (Latin American) translation and visitors can also view an educational brochure in Spanish. Our website contains built-in options for translation into numerous world languages.
Audio-visual accessibility: Audio-visual systems operating in our two large classroom spaces run simultaneously for all to see. The audio system offers two infra-red features designed to allow for hearing assistance: either through an earphone system or augmented amplification direct to a visitor's hearing devices.
Parental accessibility: All parents have access to baby changing facilities in our restrooms.
The Hitchcock Center is continually assessing programs and facility for access-oriented inclusion, breaking down barriers and advocating for access wherever possible. You can find a link to all 2018 Stavros' award recipients here.
Click here
to return to full list of blog entries. Or chose a specific Blog category below.
Blog categories