Living Building Recharge!
By Julie Johnson
After nearly 8 years of planning, designing and constructing the Hitchcock Center's new living building, I attended the annual conference of the International Living Future Institute (ILFI) in Seattle, WA, the people who brought us the Living Building Challenge. Held over 5 days in May, the focus of this conference is more than simply how we can transform the built environment. It's about how we can transform society. We delved into issues of social justice, cultural diversity, community resilience, and ecological restoration. What surprised me the most about this conference was not what I learned, but what I felt.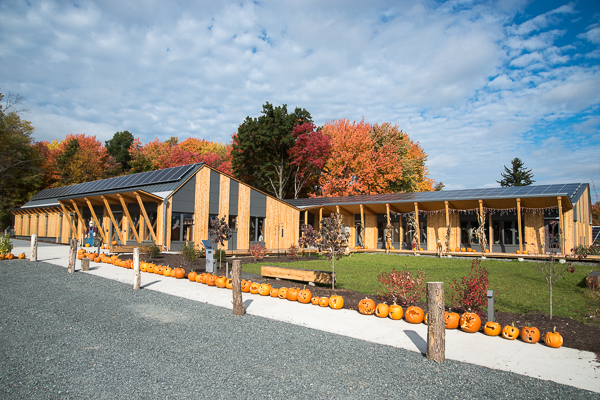 Doing something visionary, like the Hitchcock Center has by taking the Living Building Challenge, comes with a whole lot of challenges. There is nothing easy about doing a project that virtually has no blueprint, often goes against the grain of the regulatory environment, involves everyone, and requires strong funding support that goes well beyond our base.
Did I mention it has been 8 years since we committed to taking this challenge? This was no ordinary capital project and campaign; it required extraordinary effort on the part of our staff, our board, and our community. There have been tears and there has been joy. It is hard, hard work – and the work is not done! New water system changes have just been requested from the state, building management systems need to be refined, and our rigorous full Living Building Challenge certification audit has yet to be complete. There's also the small matter of another $800,000 to raise.
Believe me, there are nights I lay awake wondering why on earth we took on such much. Do we have the sophistication? Do we have the endurance? Can we really pull this off? Will it be successful?
One of the primary questions asked of me at the conference, "would you do it again?" As someone who has just completed the construction of a "living" building, I represented a rare commodity for those deliberating on whether and if they should take on the Living Building Challenge. There are just not that many people who have had direct experience with designing and building such a building.
Would I do it again? Heading into the conference, I would describe myself as a "borderline burnout," a hazard to any executive director who has embarked on a capital campaign of any magnitude. When I contemplated the answer the first time, I was surprised that I hedged. Why would I even hedge knowing the near unimaginable consequences of climate change or the astounding level of toxicity accumulating in our environment! Wasn't this project a moral imperative when we first committed?
My intellectual self answered, "Absolutely, yes I would do this again!!!" My emotional self answered, "Ask me later." But then I spent three whole days and nights immersed in amazing conversations, with over 1,200 design and sustainability practitioners in attendance, where I witnessed the announcement of 22 newly certified Living Building Challenge projects and 3 Living Product Challenge products; celebrated 9 Heroes working toward a restorative future; and hear about amazing new partnerships. I listened to keynote speakers Van Jones, Kirsti Luke, and Naomi Klein on how to stay grounded with love, celebrate our own culture while embracing others, and striking a sustainable balance between saying "yes" and "no".
Would I do it again? Absolutely, yes! Would I do anything different? Absolutely, yes! Keep celebrating the accomplishments, surround yourself with amazing and supportive people, never doubt that you can make a difference, and keep feeding your courage and commitment. We live in an amazing world and at an amazing time.
Learn more about the Living Future Unconference.
Have you taken a tour of the new Hitchcock Center? If not, check out our tour schedule.
Julie Johnson is the Executive Director of the Hitchcock Center.
Click here
to return to full list of blog entries. Or chose a specific Blog category below.
Blog categories