STARS School Residencies Support 99 Virtual STEM Sessions for Grades K-6 Despite COVID-19
The Hitchcock Center is bringing enhanced natural science instruction to thirty-three school classrooms in grades K-6 at five elementary schools this spring. The project is supported by $21,400 in combined funding from each school secured through the Massachusetts Cultural Council's (MCC) Students and Teachers working with Artists, Scientists, and Scholars (STARS) Residency program. The STARS program provides funding for a three-day-plus residency for each classroom that partners students and teachers with practicing artists, scientists, and scholars to create rich cultural experiences.
During this COVID-19 year, Hitchcock Center environmental educator Helen Ann Sephton is working in partnership with teachers at Pelham, Fort River, Crocker Farm, and Northfield Elementary Schools to secure funding for inquiry-based, live-streamed video science sessions designed to make connections to our local environment and bring science concepts alive.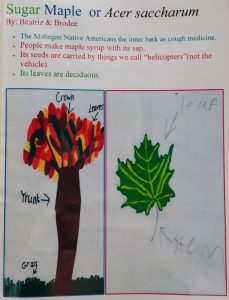 In grades K-3, Helen Ann works with students to identify plants and animals in different ecosystems, learning how they are interconnected with each other and to non-living parts of the system. Through live-streamed video sessions, Helen Ann leads students through problem-solving exercises to help them understand how plants and insects are adapted to mutually benefit each other. Students meet live animals and aquatic invertebrates kept at the Center to apply their knowledge in describing how each animal might have adapted their physical appearance and behavior to survive in their habitat, be it land-based or aquatic.
Students in 4th, 5th and 6th grades explore how humans can learn from earth's water system in order to live sustainably. These lessons include a unit on principles of soil erosion, a geology field trip to Mount Skinner, and an opportunity to design, build, and test a rainwater catchment and filtration model much like the one used at the Hitchcock Center.
Depending on age-level appropriateness, students will record data through drawing and writing, or keep journals of their observations, including drawings, written descriptions, and reflections on what they have learned. Their writing and drawings will be shared with their classmates, their families, and the school community through their school's website.
MCC STARS Residencies have allowed the Hitchcock Center to facilitate an average of nearly 300 classroom visits per year for the past eight years, supporting teachers in ways that balance student engagement in the outdoors with simplified methods and curricula for meeting the Science Standards. Mr. Keins, a teacher at Fort River School shared during a previous residency that, "In fourth grade students were so excited about the plant identifying that they were running up to Helen Ann with new plants they had discovered and marveling at the different characteristics."
Click here
to return to full list of blog entries. Or chose a specific Blog category below.
Blog categories