Summer Series Raises Awareness of Local Food and Social Justice
The Hitchcock Center co-sponsored a number of workshops, tours, and programs that highlighted the rich community we share and what makes a resilient community food system. Over 70 participated in this series that included:
A Tour of the Food for all Garden at the UMass Agricultural Learning Center*
Garden organizers and representatives from Amherst Survival Center and Not Bread Alone provided an overview of this and other successful case studies of this community engagement model of local agriculture. A surprisingly loyal and brave crowd came out for this event in the rain.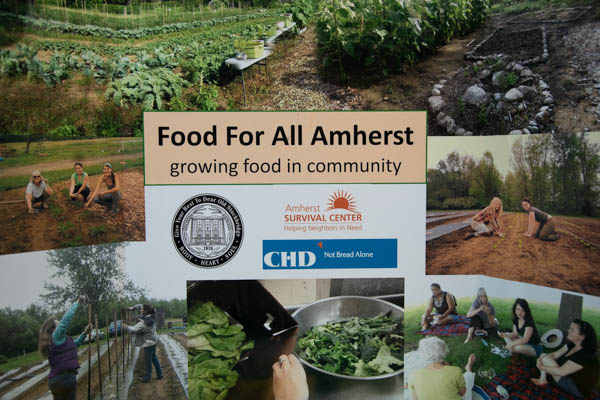 A Panel & Potluck: Perspectives on Food Security in Pioneer Valley Food Systems*
This panel of farmers, educators, town staff, organizers, and community members included Nuestras Raices in Holyoke, New Lands Farm in West Springfield, Massachusetts Farm to School Project, and Amherst Survival Center. Each participant was asked to share their highest hopes and greatest challenges in working with our local food system. The conversation was designed to facilitate critical thinking and conversation around actions to close loops and make our local food system more effective and inclusive. An engaged audience of 30 were in attendance asking careful questions, networking, and connecting.
Local Food & Resilience: Preserving the Local Bounty Workshop*
This hands-on workshop held at Not Bread Alone with 15 participants involved a short presentation by Bob Stover of NBA followed by guided hands-on canning and fermentation activities led by Sarah Berquist, Peg Thibbits, Costa Boutsikaris, Cate Elliott and Erin Ferrentino. Participants were able to take home their own preserved goods including, pesto, blueberry preserves, and fermenting sour kraut.
*Our special thanks to Sarah Berquist, a graduate student at UMass Stockbridge School of Agriculture, for spearheading these programs.
Growing Our Own: Families Working Together for a More Sustainable Life Another
Over 20 participants, including Congressman Jim McGovern, spent an afternoon exploring how families can work together, with land and knowledge resources, to create a farm that sustains them. Farmers Rebecca Reid & Michael Dover, Bethany & Seth Seeger, and Jess Rocheleau & Jason Rennie partner together to manage the 9-acre Old Field Farm in Leverett where they grow and preserve a large percentage of their own food. They shared their vision, successes, challenges, and goals for a primarily selfsustaining and resilient farm, including small livestock husbandry, growing fruits and vegetables, fermenting, establishing an orchard, Amanda Sturgeon grinding grain, and more.
Click here
to return to full list of blog entries. Or chose a specific Blog category below.
Blog categories