The Hitchcock Center Collaborates with Girls Inc. of Holyoke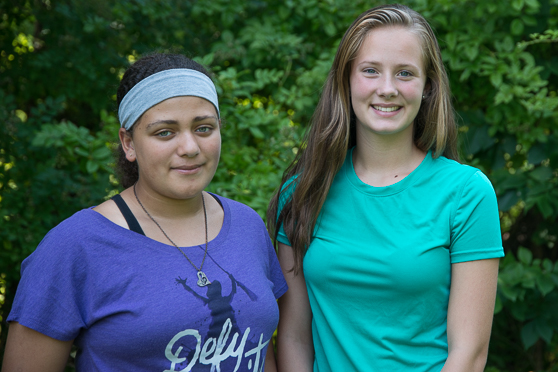 By Katie Koerten
August 31, 2015
Nysha Sanchez, 16 and Kaylla Fairbanks, 15 spent the month of July working at the Hitchcock Center as "externs" from the Girls Inc. of Holyoke Eureka! Program.
Eureka! is a nationally recognized five-year program designed to engage girls in Science, Technology, Engineering and Math (STEM) fields, build leadership skills, and promote college education. Eureka! combines STEM education with personal development,  health and wellness to grow girls' confidence and skills as they approach the next phase of their lives.
The "externships", which are for girls in their third year of the Eureka! program, are designed to provide young women with hands-on career exposure. Externship placements expose girls to positive adult role models in their field of interest, and encourage pursuit of post-secondary education in order to achieve goals.
During the first two weeks, Nysha and Kaylla assisted as Junior Counselors with all aspects of Nature Summer Camp – being positive role models for the campers, assisting campers who needed help, and assisting counselors with camp preparations and clean-up.
Together, both young women designed an interactive lesson on earthworms for our youngest campers. They experienced leading campers through the lesson, and guiding the questions and discussion of results. The campers were instantly engaged – they loved collecting and observing the earthworms and experimenting with earthworms' preferences of light and dark, and wet and dry surfaces.
For Nysha and Kaylla's second two weeks, they helped various members of the Hitchcock staff with an array of different tasks that keep our programs running smoothly behind the scenes. These activities include: sewing pond nets, feeding our many exhibit arthropods, shelving library books, organizing the poster collection, giving our box turtle some exercise, and answering phones among many other jobs. Whether the tasks were glamorous or not the girls got a great deal of exposure to the little and big things that make our center run well! They also learned about their own personal strengths and started to hone in on their potential future job interests.
Their externship also included time spent researching the Hitchcock Center and interviewing our Education Director, Colleen Kelley, to learn more about her role and what we do as an organization.
We loved having them and hope to continue the collaboration next year!
Katie Koerten is Children and Family Programs Coordinator/Camp Director at the Hitchcock Center. She plans, develops, coordinates and implements the Center's Children and Family Programs including its summer and vacation Camps, homeschool, and afterschool Programs.
Click here
to return to full list of blog entries. Or chose a specific Blog category below.
Blog categories