UMass Lowell's Toxic Use Reduction Institute Funds the Hitchcock Center's Educating for a Healthy Material World Program Series
By Casey Beebe
The Hitchcock Center for the Environment was recently awarded a grant in the amount of $15,000 from the Toxics Use Reduction Institute (TURI) at UMass Lowell. This grant will support a series of educational programs focused on the toxic materials most commonly used in constructing our homes and places of work, the harmful effects they have on human and environmental health, and alternatives that can lead toward a healthier planet.
Our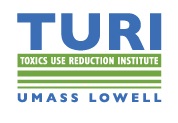 new Educating for a Healthy Material World series will address the "Materials Petal" of the Living Building Challenge™ (LBC). The Materials Petal is designed to help promote a materials economy that is non-toxic and ecologically regenerative. Throughout their life cycle, building materials are responsible for many adverse environmental issues, including personal illness, habitat and species loss, pollution, and resource depletion. The ingredients in these materials have been identified through the Red List published by the International Living Future Institute, the organization that administers LBC.
Educating for a Healthy Material World aims to educate consumers toward making better-informed decisions about the toxicity of the materials and products they purchase for their homes and businesses. It is incumbent upon us all to research ingredients in the products we purchase, to ensure our own health and safety, and to advocate for this information if it is not readily available, but we recognize it is daunting to get started.
The Hitchcock Center's new living building has eliminated the use of many of the worst-in-class ingredients most commonly used in the building industry. We will build from our design team's experience in identifying and sourcing the nontoxic materials needed to meet LBC's rigorous Materials Petal, and bring together thought leaders, policy makers, and health professionals to explore how we can promote greater transparency and accountability that can lead toward a non-toxic future.
The Hitchcock Center has initiated this project with the support of partners including: Wright Builders, Integrated EcoStrategies, designLAB Architects and toxicologist Steve Gilbert of Toxipedia. Look out for our program series this winter, and a spring symposium around understanding everyday toxins. We will also be offering some professional workshops to those in the building industry, and developing print and online materials that educate people about the Red List.
Click here
to return to full list of blog entries. Or chose a specific Blog category below.
Blog categories