Welcome Peter Lamdin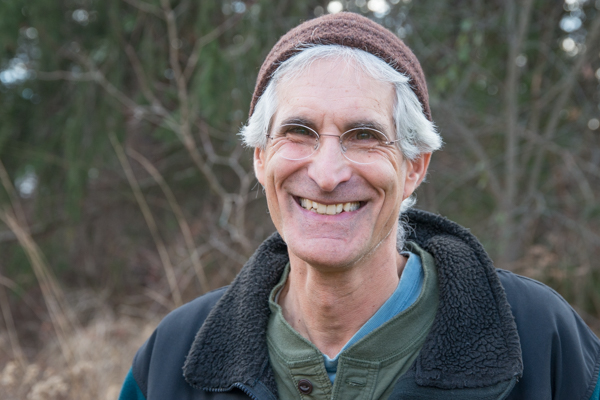 By Helen Ann Sephton
December 11, 2015
Peter Lamdin has come full circle. "It's hard for me to believe, but it was 40 years ago this past summer that I first became connected to The Hitchcock Center. That summer of 1975 was the start of my journey as an educator."
In that year, the Hitchcock Center, then known as the Long Plain Nature Center, was located in Leverett on Long Plain Farm. Peter was a camp counselor. He talks with enthusiasm about his early experiences leading nature hikes and working with children from urban areas. The way he tells it, he learned as much from the kids as they did from him. What he learned was the excitement of shared discovery. "I was hooked," says Peter, "Curiosity about the natural world, the joy of discovery, and ownership of learning – those early nature center tenets became core to my work as an educator."
A year later, the center moved to its current location and became the Hitchcock Center. In the next few years, Peter co-directed the nature camp, taught in the Amherst schools, and attended environmental education conferences with other staff. His path diverged when he enrolled at UMass and earned his teaching degree, becoming a teacher in the Amherst Public Schools. Peter was a classroom teacher for over 30 years, most of them spent teaching 6th grade at Fort River School in Amherst. He recently retired (or as one of his 6th graders put it, "expired") from classroom teaching, a decision that he said was hard. "I missed the kid connection, but retirement was made easier by the folks at the Hitchcock Center who asked if I wanted to help out – I did."
In 2014, Peter began work on our new summer camp, the Leadership Training Camp for children ages 11-13, those who are too old for our day camp, yet not old enough to be junior counselors. Peter worked with Katie Koerten and Colleen Kelley to design the camp, and he and Katie have co-directed and taught it for the past 2 summers. In addition, Peter led an invaluable training for summer camp staff focused on group management skills and understanding. He has taught us the importance of debriefing, a time for reflection and discussion at the end of the camp day, with both our leadership campers and our staff.
Peter's role at the Hitchcock center continues to expand. He is currently facilitating professional development training through CES, the Collaborative for Educational Services, in collaboration with the Center. He continues to see some of the Fort River students on field trips he leads at Skinner State Park. And he looks forward to working with us on our internship program with college students.
Although Peter is doing new and different work than he did 40 years ago at the Center, he says that some things haven't changed. "At the Hitchcock Center there is less 'teaching about' and more 'sharing with'. It's about discovery and ownership and the joy of seeing something new. And I'm here because it's just fun."
And we are so happy he is! Welcome, Peter! It's good to have you back.
Helen Ann Sephton is an Environmental Educator/School Programs Coordinator. She plans, coordinates and implements the Hitchcock Center's K–12 School Programs including field trips, classroom presentations, residencies, and professional development for teachers.
Click here
to return to full list of blog entries. Or chose a specific Blog category below.
Blog categories