Western Mass Youth Climate Summit "Office Hours" Helps Develop Climate Leaders
The Western Mass Youth Climate Summit, held annually each fall for 8-12th graders in the region, has continued to organize monthly meetings through the school year with "Climate Office Hours" designed and facilitated by a youth leadership team of five high school students: Victoria Fogg, Leo Franceschi, Tessa Kawall, Ollie Perault, and Sadie Ross.
These evening sessions, held the second Monday of each month, offer their peers the chance to continue the conversation about specific climate-related issues, ask questions, find support for their Climate Action Plans, and discuss any related topics.
Supported by Hitchcock Center's Education Director Colleen Kelley and Climate Education Coordinator for Mass Audubon's Connecticut River Sanctuaries, Brittany Gutermuth, the sessions are low-key opportunities for students to continue to pursue climate education in a safe space and to explore topics that may not be covered in school curricula.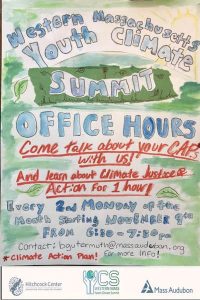 This year's Climate Office Hours topics include:
November: Climate and climate justice legislation
December: Office hours – work on Climate Action Plan
January: Bringing climate education to your school
February: Office hours – work on Climate Action Plan
March: Intersectionality of climate change and justice, featuring Nia Keith, Climate Change Education Manager for Mass Audubon with a focus on Springfield, and a call with Emmit Klein-Stropnicky from Austin, Texas to discuss the recent mass floodings and abnormal weather patterns affecting his state
April: Office hours, work on Climate Action Plan
May: Meet with local representatives on climate action
June: Solutions Expo Event
The Youth Climate Summit leaders have become an incredible resource to other youth across of Massachusetts and Connecticut. They were instrumental in planning and organizing one of the only Virtual Climate Summits in Massachusetts during the height of the COVID-19 pandemic. They presented to a group of adult climate leaders to advise them on how to run a climate summit for youth. Each student has become active in other climate groups around Massachusetts and Connecticut to report back on what kind of political and regional action is happening and to share ideas and network.
The culminating event of the year-long series of the Summit, discussions, and network-building will be a Solutions Expo Event where each team will be able to present progress on their Climate Action Plans. The students are planning how to make the showcase an entertaining and rewarding event. Having fun is an important part of building connections, lending natural fuel to the hard work of creating change.
Click here
to return to full list of blog entries. Or chose a specific Blog category below.
Blog categories