One of those is Henry David Thoreau, esteemed author, activist and naturalist whose bicentennial birthday was July 12.
How can someone who knows the names of the plants growing in the yard be as important as climate scientists, politicians, activists and community organizers?
The answer has to do with how a naturalist comes to know those plants and animals. Books can certainly teach species names and identification skills, but naturalists are out in the field every day, becoming familiar with them.
They see witch hazel in the fall when it flowers and in the winter when it drops its leaves.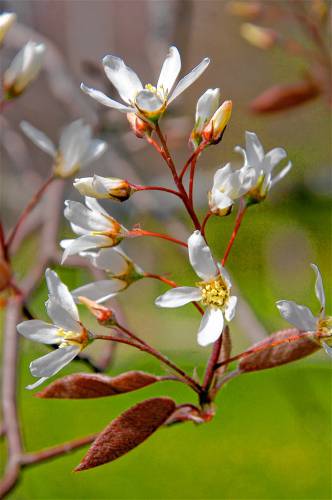 They see spotted salamanders during their spring migration when they cross roads to get to vernal pools, and they see them in their upland forest habitat during the rest of the year.
They hear red-winged blackbirds give their distinctive "conk-a-reeeee" call when the birds arrive in the spring, and they notice its absence when the red-wings leave for the winter.
Studies of the timing of such cyclical and seasonal events are the basis of the modern-day science of phenology.
Naturalists are often the first to notice when the timing of seasonal natural events changes. Events like wood frogs arriving in vernal pools or pink lady's slippers flowering in the spring happen every year, but exactly when depends on a variety of factors, including temperature, rainfall and other aspects of the local and regional climate. As the climate changes the rhythms of our ecosystems change, too, and naturalists' observations can serve as both corroboration and early warning of the effects of climate change.
More than 150 years ago, Thoreau carried out similar observations that now inform today's students of phenology. In 1845, he began a two-year experiment in simple living at Walden Pond in Concord that included studies of the plant and animal life, and when they emerged from winter and completed their life cycles.
Following his time at the cabin, Thoreau continued this work. On his daily walks at Walden and elsewhere in Concord, he observed the changes in the fauna and flora as the seasons passed and time went by. Between 1851 and 1858 he took extensive notes on the events of the natural world around him.
Researchers from Boston University and colleagues have been using Thoreau's old field notes to help understand how the timing of natural events have changed since the 1850s.
Led by biologist Richard Primack, they have been comparing Thoreau's notes about the plants in Concord, along with records made by local 19th century botanist Alfred Hosmer, with data the team has collected from the same sites. This involves deciphering Thoreau's handwriting and matching plant names used in the 1850s with names used today. After analyzing the flowering dates of 43 species of plants, they concluded that the plants are blooming 10 days earlier, on average, than they did when Thoreau was observing them.
Thoreau isn't the only naturalist from yesteryear whose field notes are being used to study climate change. Researcher Stanley Temple from the University of Wisconsin-Madison, along with scientists from Harvard and Boston University, used records made by ecologist Aldo Leopold to compare current flowering dates for plants in Wisconsin to their flowering dates from the 1930s. They concluded those plants now flower an average of one month earlier than they did in Leopold's time.
Today, professionals and citizen naturalists alike are continuing to contribute valuable phenological data to our historical records. They are getting out into the fields and forest, making observations and getting to know the plants and animals around them for the same reason Thoreau and Leopold did — they love nature. They listen to its rhythm. We should listen to them.
Patrick O'Roark is an environmental educator at the Hitchcock Center for the Environment in Amherst.
For more on the Thoreau bicentennial, see the July 15 Earth Matters column. For an additional perspective on phenology and climate change, read Ted Watt's column from September 2016. Aspiring citizen scientists, especially teachers, can contribute to our understanding of changes in phenology in our region by joining Project Budburst.
Earth Matters, written by staff and associates of the Hitchcock Center for the Environment at 525 South Pleasant St., Amherst, appears every other week in the Daily Hampshire Gazette. For more information, call 413-256-6006, or write to us.