Family Programs
We continue to find flexible and adaptive new ways to meet the needs of children and families. Our emphasis is on providing inquiry-based environmental and outdoor education programs for small groups.  Our programs, as always, are focused on learning from nature, but we are placing a heightened focus on meeting the need children have for unstructured time with their peers. It is essential to children's social-emotional development and general sense of well-being to be able to play and be free outside with each other!  
Winter programs will be mostly outdoors with short portions indoors, to allow for warm ups and a longer duration program.  While inside everyone will be required to be masked.  We will attempt to limit indoor eating to more extreme weather but if we do eat inside everyone will be socially distanced by at least 6 feet. 
Programs may also be viewed in a calendar.
Second Saturday Family Science Winter/Spring (In-Person Outside)
with Aemelia Thompson
Ages 5–7, Grades  K–1
Saturdays, 10–11am
January 8th, February 12th, March 12th, April 9th, May 7th*, and June 11th
Suggested Donation: $5–$30 per family
*The Saturday Science on May 7th has been moved to the first Saturday of May due to space availability.
Join us for seasonal nature and science programs each second Saturday of the month. Designed for children (ages 5–7) with their parents, these programs will explore cool topics in nature.  
January 8th: Living With Bears
Have you ever seen a bear in your neighborhood? Massachusetts' only native species of bear, the black bear, is an amazing and often misunderstood animal. Join us as we learn about how they live and how we can safely share their habitat with them.
February 12th: Tracks and Traces 
While we're bundled up inside there is still a lot going on outside in Winter! We know this because the animals leave us clues! What tales can animals tell us by looking at what they leave behind?
March 12th: Plants in Winter- RESCHEDULED FOR SUNDAY, MARCH 13TH DUE TO WEATHER
Some plants die in the Winter, others retreat unseen below the ground, still others seem completely unchanged.  Learn about the adaptations of different plants in Winter time and investigate some evergreens in an attempt to understand their survival strategies.
April 9th: Vernal Pools
Also called "ephemeral pools" these Spring habitats are teeming with life and only around for part of the year! As the world thaws, come explore the life of these unique and beautiful places. 
*May 7th: Wind and Air
We can't hold them or see them, but they're all around us! This month at the Hitchcock Center we'll make the invisible visible by examining wind and air at work.  We'll be making our own wind catchers and learning about our relationship to wind and air.
June 11th: Poisonous or Venomous
What's the difference between poisonous and venomous? Where do these toxins come from? How do plants and animals use their toxins? In this Saturday Science we will explore the answers to these questions with hands-on activities, games, and nature exploration. 
Nightwings: A Storytelling Event for Families
Saturday, May 21 6:00pm-7:00pm
Space is limited
Join us for a special evening of bat magic! We will gather round the campfire at the Hitchcock Center as storyteller Katie McEachen tells her original story, Nightwings, about the adventures of a magical bat. We will also make a bat craft to take home and sing a bat song. Bring a blanket or chair and snacks if you wish. While Nightwings is appropriate for all ages, it is especially suited to children ages 4-7.
Katie McEachen is an early childhood specialist, herbalist, storyteller, parent ally, and creator of the Wonderwild. The Wonderwild is a place of enchantment and connection; home of fantastical stories, tea parties, workshops, and adventures. She has over a decade of experience directing nature-based programs and preschools, and she loves supporting families and educators while they do the hard work of raising/teaching children. Most of all she loves facilitating experiences of connection and belonging for people of all ages.
Our City Our Parks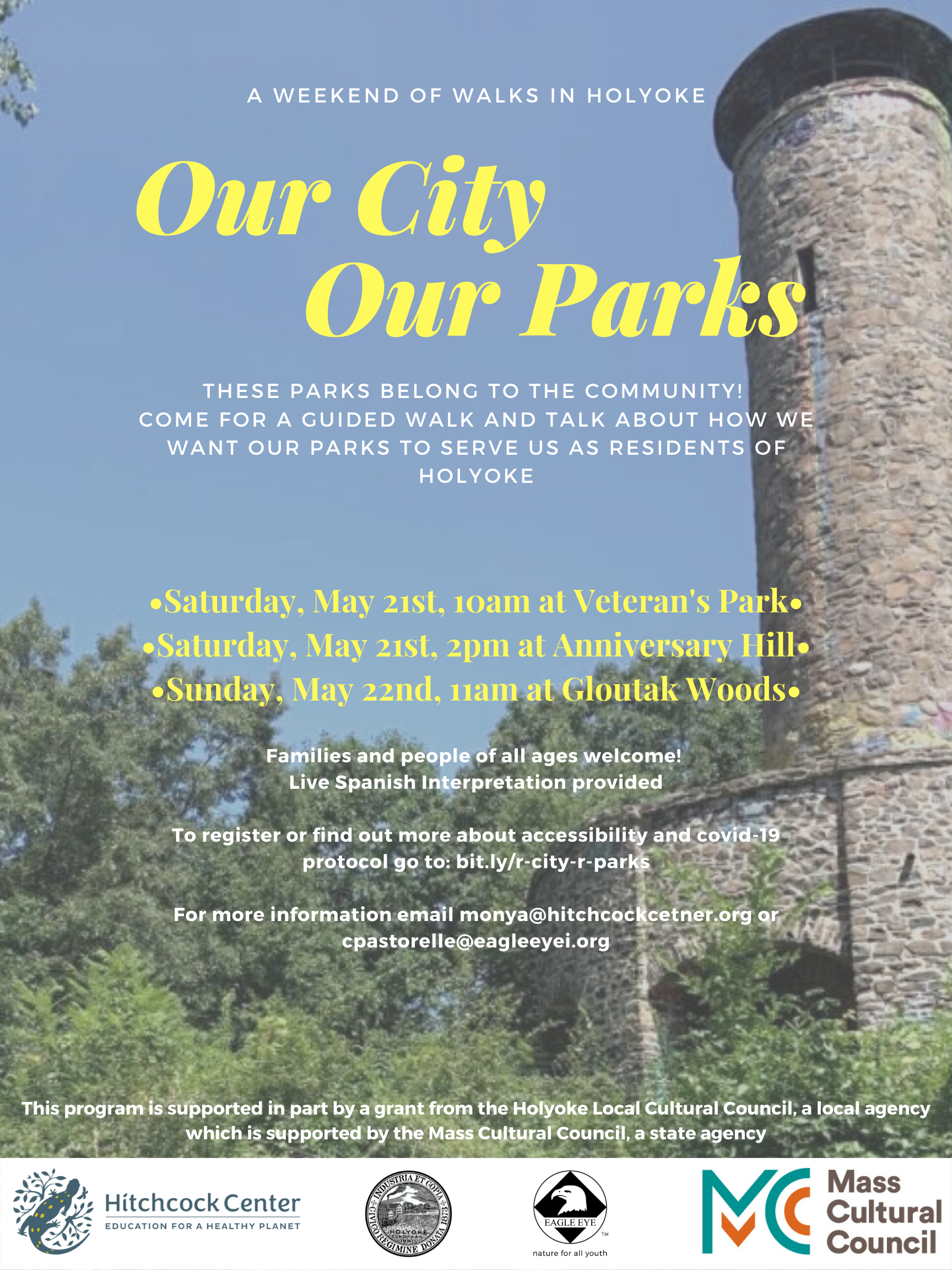 A weekend of walks in Holyoke.  These parks belong to the community!  Come for a guided walk and talk about how we want our parks to serve us as residents of Holyoke.
**Postponed** – New date/time coming soon
Saturday May 21st @ 10am: Vete
ran's Park
Saturday May 21st @ 2pm: Anniversary Hill
Sunday May 22nd @
11am: Gloutak Woods
Families and people of all ages are welcome!  Live Spanish Interpretation provided.
Virtual Class Programs for Families or Learning Pods
Ages 5–8 or Grades K–2
with Aemelia Thompson
Mondays or Tuesdays, 1pm
OR
with Helen Ann Sephton
Tuesdays, 1pm
Fee per program: Tier A-$61  | Tier B-$50  | Tier C-$37  | Tier D-$18
Group size: up to 22 students, including at least one adult
VIRTUAL CLASS PROGRAMS REGISTRATION
Have a Hitchcock educator pay a virtual visit to your classroom or home! Our virtual class programs will be focused on specific topics to fit with your science curriculum. You will receive special topic-focused, take-home resources, and a remotely accessible video of a Hitchcock educator that will spark student interest. This will be paired with a 40-minute interactive lesson on Zoom with a Hitchcock educator that will end with a fun game that will check for students' understanding and reinforce lesson goals. These are single session lessons and not a series.
When registering, choose your first and second preference for a date and time and one of the Virtual Class Program themes below:
Life Underground: Does a hole in the earth sound like a comfy place to live? To some animals it absolutely does! Living underground takes serious work but it is also a place many animals make their homes or live out their whole lives. Many of the animals that use the earth as their dwelling live right here in Massachusetts. Come dig in with us!
Predator and Prey: Trying to survive out in the wild can be a tough job for any animal, whether you're a fox looking for a mouse to snack on, or the mouse hiding from the fox! Predatory animals have to hunt other animals for their food and their prey must be smart to avoid them. Both have their place in the ecosystem. Learn more about their special adaptations in this classroom program.
Flowers and Plants: Can you eat sunlight and help bees make honey? Flowers aren't just beautiful to see and pick, they are a vital part of nature. In this lesson we'll look at flowers, the special adaptations they use to thrive in our world, and how we've come to depend on them as humans.
Insects: What makes an animal an insect? What role do insects play in our world and how are they important to people? Come learn about the adaptations, life cycles and ecology of one of the most successful groups of animals on earth.
Decomposers: What happens to plants and animals after they die? Or the banana peel you aren't going to eat? They become a tasty buffet for some vital critters in the food chain. Decomposers act as nature's "clean-up crew"– they consume dead animal carcasses, decaying plant material and waste products from other members of the ecosystem. At home you can search for, observe, and study the work of decomposers, and together we'll explore why these small critters play such a big role.
Metamorphosis: We all go through changes in our life, but metamorphosis tops any changes humans can do. Butterflies, frogs, millipedes, all of them experience this incredible process. Learn about the life cycles of our metamorphosing friends in this virtual classroom program.
Nature-based Field Trips (Virtual)
with Hitchcock Center Educators
Mondays–Thursdays, 10am, 11am, or 1pm
Fridays, 10am
Field trip length: approximately 45 minutes
January 10–June 15
Fee per Program: Tier A-$94  | Tier B-$75  | Tier C-$56  | Tier D-$28
Group Size: up to 22 participants, including at least one adult
VIRTUAL NATURE-BASED FIELD TRIP REGISTRATION
When registering, choose your first and second date and time preference and one of the Virtual Nature-based Field Trips themes below:

These live-stream virtual field trips use Zoom to offer interactive, inquiry-based learning opportunities for families and learning pods. Upon registration, a field-based "pre-trip" video along with suggested activities and resources will be provided to help engage participants in the learning process prior to participating in the live session. Each field trip has been designed to address grade-level STEM standards. We require one individual to sign up for a group. The price remains the same regardless of group size. It is expected that at least one to two adults attend the field trip via Zoom meeting with their child participants.
Amazing Animal Adaptations
Ages 5–9 or Grades K–4
How do animals survive in the wild? We will focus on the amazing diversity of life on the planet and in our area. In our pre-recorded video, participants will be introduced to live teaching animals by tuning into the talk show "Good Morning Animals." Students will learn about how biology and behavior helps animals survive in habitat in unique ways. In our interactive live-stream video session, we will come together to share our experiences with local animal adaptations in addition to observation of our teaching animals and stuffed mounts. We will also explore the concept of biomimicry and human adaptations through conversation and games. STEM standards
Insect Investigations
Ages 5–9 or Grades K–4
What makes an animal an insect? What role do insects play in our world and how are they important to people? In our pre-recorded video, we will become entomologists with a Hitchcock educator to adventure into the woods and search for insects. Learn how to identify an insect, where to find them, and the tools you'll need to collect them. Plus, learn a ton of cool insect facts along the way! We will also come together in an interactive live-stream video session to share our experiences with insects, observe live teaching insects close up, learn about their complex life cycles, and participate in identification games and quizzes. STEM standards
Life in a Pond
Ages 5–10 or Grades K–5
A pond is much more than frogs and fish! In a pre-recorded video, we will demonstrate the beautiful web of pond life from algae and microscopic organisms to insect larvae and amphibians. We will learn how to make a simple pond net, read about what makes a pond a pond, and go on a virtual pond tour. You will be given a list of simple equipment to use to successfully collect pond animals, and will be shown how to safely collect and release these animals. Then we will share our experiences through an interactive live-stream session where we wil get a close-up look at pond invertebrates (animals without backbones), do a scientific drawing, and experiment with the surface tension of water. STEM standards
Mountains and Valleys
Ages 9–10 or Grade 4–5
Discover the stories in the stones around us! The Holyoke Range can tell us much about how the Earth's crust is shaped. It is a geologically unique area, where we can find evidence of shifting tectonic plates, earthquakes, volcanoes, glaciers, and erosion, all in one place! In this virtual field trip, we will first learn how the everyday landscape provides intriguing clues to the past in a pre-recorded video. Together, we will then explore local geology through video, hands-on experimentation and a live stream video session. STEM standards.
COVID-19 Safety
Read our complete COVID-19 Program Participant Guidelines.
Our programs are designed to be fun and engaging and above all safe. The COVID-19 program guidelines are designed to help protect everyone as we meet the strict health and safety requirements of the CDC and our state. Please take the time to read the information thoroughly. If you feel that you or your child(ren) cannot follow these guidelines, we ask that you wait until these restrictions have been lifted to join one of our programs or events. We may change our guidelines to reflect new guidance from CDC and Massachusetts.
Fees
Given this time of financial hardship for our community and our organization, we are offering a new sliding scale fee structure aimed to provide greater flexibility in choosing a price that is right for you and your family.
Tier A: The fee is set 25% higher than what it costs to run the program and helps to support those who cannot afford the full cost of the program.
Tier B: The fee is set to cover 100% of the program costs.
Tier C: The fee is set at 25% less than what it costs to run the program.
Tier D: This fee is set at 50% less than what it costs to run the program. This option is available for EBT, WIC, and Connector Care Card to Culture participants, that is, households receiving benefits through the Massachusetts Department of Transitional Assistance and the Massachusetts Health Connector