Hampshire College Welcomes Hitchcock Center for the Environment to its Cultural Village
By John Courtmanche
TO MARK THE ORGANIZATION'S MOVE TO CAMPUS, THE COLLEGE HAS DESIGNATED NATURE TRAILS FOR EDUCATION AND RECREATION ADJACENT TO THE HITCHCOCK CENTER'S NEW HOME
The Hampshire College campus will be a place of learning for some 10,000 more students of all ages each year as the college's latest Cultural Village partner, the Hitchcock Center for the Environment, celebrates its grand opening on Saturday, October 1. Eighteen months after signing a 95-year ground lease with the College, The Hitchcock Center has relocated from its previous home north of campus to its newly built 9,000-square-foot facility located between the Red Barn and the Hampshire College Farm, with access to nature trails and a range of ecological habitats on the College's property.
The Hitchcock Center provides year-round environmental education programs to some 8,000 children and adults each year, and has plans to leverage its new facility to expand programs and increase annual reach to more than 11,000 learners. Since 1962, The Hitchcock Center has been educating students primarily from pre-K through 12th grade, but increasingly to college and adult "citizen-science" learners from western Massachusetts and beyond.
The Hitchcock Center has long been an educational ally of Hampshire; among its board of directors are alumni and former and current professors of Hampshire College and the Five Colleges. The two institutions share many values and goals, including deep commitments to innovative, hands-on educational programs, and sustainability. This alliance has extended to academic collaboration. For example Hampshire Assistant Professor Tim Zimmerman worked with the Hitchcock Center to research ways to better teach 21st century science, using funding from a National Science Foundation grant.
Now that the Hitchcock Center is based at Hampshire, the two institutions are working together more closely. For the Hitchcock Center, education outside the classroom is as important as education inside it. Access to the abundant natural landscapes and open spaces of Hampshire's land will expand its opportunities for programming.
The College has designated a number of its nature trails adjacent to the new Hitchcock facility as open to students of its educational programs, as well as to campus visitors for passive recreation and for appreciation of the beauty and richness of the land.  These trails were developed by Hampshire over the past year with help from the Hitchcock Center.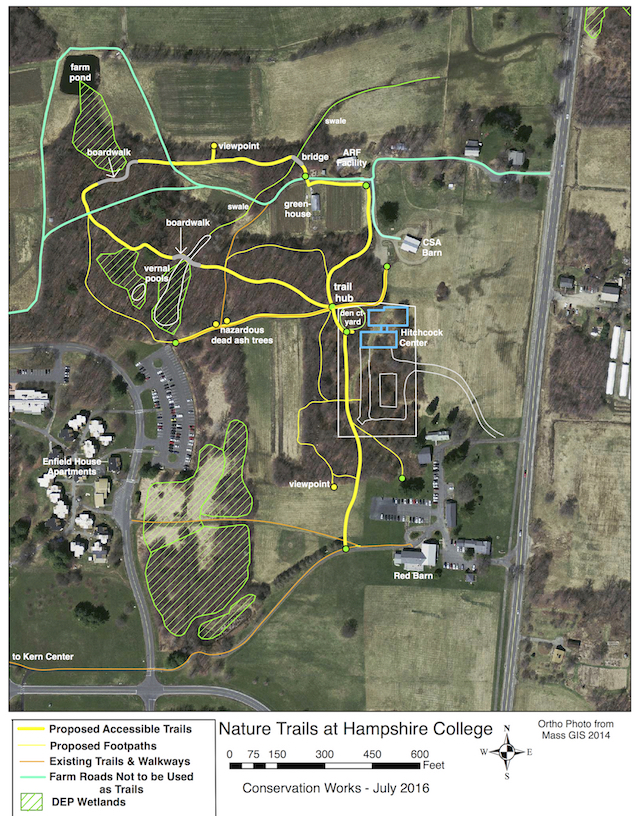 The process involved a number of offices at Hampshire – those of the Hampshire College Farm, facilities and grounds, the office of the president, for example, as well as individual faculty. Director of Food, Farm, and Sustainability Beth Hooker said the plan is to continue to develop trails to meet design standards of the Americans with Disabilities Act.
The Hitchcock Center is also planning to increase the number of interns it hires, which will increase opportunities for students of the local colleges.
Hampshire's Cultural Village includes The Eric Carle Museum of Picture Book Art, which opened in 2002; the Yiddish Book Center, founded in 1980 and located on campus since 1997; and now Hitchcock. They are all independent, non-profit organizations separate from the College, but which share educational and programmatic values. Together with the Hampshire College Art Gallery and our distinguished visual and performing arts programs, they are significant attractions as the campus continues to grow in stature as a cultural destination.
The new Hitchcock Center facility was constructed to the same advanced green building standard, the Living Building Challenge, as was the College's new R.W. Kern Center, and will also apply for certification as a living building. The building itself is intended as a teaching and learning tool that invites visitors to engage with ecological principles and designs.
In its inaugural year on campus, the Hitchcock Center has announced new and continued special programs for people of all ages and abilities, using its new building as an educator. This fall, the Hitchcock Center is hosting a "Water Issues Symposium," and this winter, it will launch its "Educating for a Healthy Material World" program and a K-8 "Learning from Nature" schools program.
To fund the construction of its new home, the Hitchcock Center has led a capital campaign and raised more than $5.8 million from state funding and private gifts.
Hitchcock Center for the Environment
hitchcockcenter.org
845 West Street, Amherst
413-256-6006
The original article is available here.
Click here
to return to full list of news entries.