Hitchcock Center needs $700,000 to meet $5.8 million fundraising goal for new Amherst building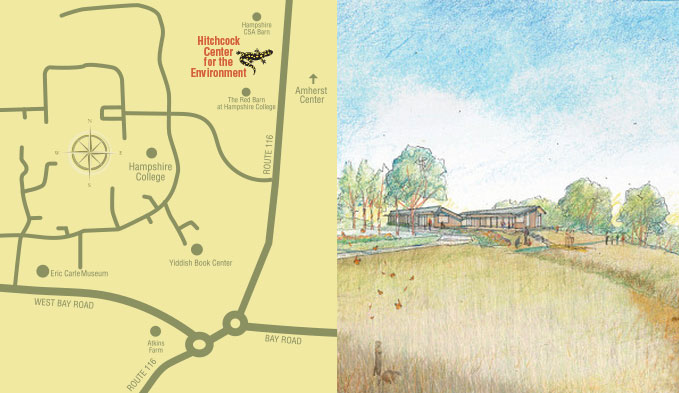 By Diane Lederman for MassLive
AMHERST – The center is building a 9,000-square-foot environmental education center at Hampshire College that will meet Living Building standards. They began construction May 1.
The center currently operates from a renovated 4,500-square-foot carriage house at the Larch Conservation area on Route 116, which is owned by the town.
The center needs to raise the money by the time the building opens, Johnson said. They don't yet have a date for the actual opening.
The Community Foundation of Western Massachusetts and the Beveridge Family Foundation, Inc. are offering challenge grants to help.
The Community Foundation is matching any individual gift of $1,000 or more up to $50,0000.
The Stanley Beveridge Foundation community challenge is matching any business gift at any level up to the $40,000 cap, she said.
The center and Hampshire College signed an agreement to construct the new building on the campus in late 2011.
While located in Amherst, in 2014 served 60 communities in Hampshire, Hampden and Franklin counties and hosted 47  different schools.
The new space will allow the center to increase participation from 8,500 to 11,500 children, youth and adults and more than triple the number of visitors from 750 to 2,600 people each year.
They also plan to expand their hours from 35 to 60 week.
Founded in 1962, the center brings "awareness and understanding of our environment through programs with a particular focus on children, who live in a world of environmental challenges," according to the center website.
Johnson said the project is on schedule and they are documenting the progress with video.
Up until last month, there was a lot of underground work but now she said, "you can see the whole thing rising up."
For people who want a close up, the center is running tours on the first Friday of each month from 12:30 to 1 p.m. With a holiday last week, the monthly tour is Friday. People should park in the Red Barn lot.
05 Hitchcock Center Construction Timelapse 11/24/15 -12/24/15 from Reelife Productions on Vimeo.
She said a gift in any amount will help. People can donate online or mail checks to the center at 525 S. Pleasant St., Amherst, MA  01002.
They can also make a three-year pledge, she said.
"It takes a village," she said. They need broad based support for the project. "It won't happen without that."
The project received a $600,000 state Cultural Facilities Fund grant.
It has also received money from the Kendeda Fund and the Massachusetts Department of Energy Resources among others.
This article was originally published here.
Click here
to return to full list of news entries.