Press Release: Western MA Youth Climate Summit 2018
Thursday & Friday, November 8 & 9, 2018, 9am – 3:30pm
Hitchcock Center for the Environment (Amherst) and Arcadia Wildlife Sanctuary (Easthampton)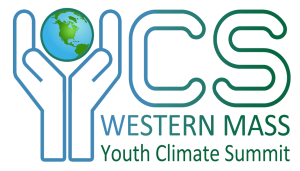 Amherst & Easthampton, MA – The Hitchcock Center for the Environment and Mass Audubon's Arcadia Wildlife Sanctuary are excited to announce the Second Annual Western Mass Youth
Climate Summit, scheduled Thursday and Friday, November 8 & 9, 2018 from 9am-3:30pm each day. Press is invited and encouraged to attend.
The Western Mass Youth Climate Summit provides an empowering platform for high school students to engage in conversations and planning with their peers on the issue of climate change and to discuss actions and goals their team will take to address the problem. Schools can participate in the Summit at no charge thanks to support form grant funders and local business sponsors.
The 2018 Summit has grown to include eight area high schools with 80 participants from Amherst Regional High School, Frontier Regional High School, Hampden Science Charter School, Hampshire Regional High School, Holyoke High School, and Northampton High School, each bringing teams of students to participate in a transformational day of cooperative learning, meeting inspiring speakers, exploring solutions, brainstorming school-wide climate solutions, and socializing with other students in the Valley.
Goals for the 2018 Summit include meeting and collaborating with peers from across the region, exposure to information on climate change, learning about innovative regional solutions, awareness of sustainable employment possibilities, nature-based learning, working with a team to develop a climate action plan, being an ambassador for change. Thursday will feature workshops on: climate communication, youth leadership, and green transportation. Friday will involve creation and sharing of team climate action plans.
Contacts:
Colleen Kelley, Education Director, Hitchcock Center for the Environment, 845 West St., Amherst, colleen@hitchcockcenter.org, 413-256-6006
Brittany Gutermuth, Climate Education Coordinator, Arcadia Wildlife Sanctuary, 127 Combs Rd, Easthampton, bgutermuth@massaudubon.org, 413-584-3009
Speakers for the two-day event include:
Sue Van Hook (Keynote Speaker): Sue is a mycologist, naturalist, teacher and healer. Sue joined the Mushroom Materials company Ecovative as a Mycological Consultant at the outset in 2007, and worked as the Chief Mycologist for 7 years. Her work involved cultivating fungal strains from the wild, experimenting to optimize fungal performance and material characteristics for various product applications for the manufacture of living Mushroom® Materials. https://ecovativedesign.com/
Tem Blessed: As a green energy artist, Tem blends the critical messages of sustainability with hip-hop. Tem is a graduate of UMass Amherst. http://temblessed.com/
Stephanie Covino is on the board of the Massachusetts Watershed Coalition is trained as a Keystone Cooperator. She is also a Certified Provider for the Commonwealth's Municipal Vulnerability Preparedness Program to help communities identify actions to reduce climate vulnerabilities and strengthen assets. Her work with Mass Audubon's award-winning Shaping the Future of Your Community program informs, empowers, and connects people and places to create resilient communities through smart development and targeted natural resource protection.
James Lowenthal: Professor of Astronomy at Smith College.
Andrew McNulty: Is a self-described bicycle maniac with degrees from UMass in environmental design and resources conservation.
Toni Lynn Morelli: In her role as USGS Research Ecologist for the NE CSC, Toni Lyn uses geospatial analysis, species distribution modeling, occupancy modeling, and population and landscape genetics techniques to facilitate natural resource management and habitat and species conservation in the face of climate and land use change. Currently she is investigating how climate change is affecting boreal communities in the northeastern United States.
Shaina Rogstad: Shaina is a PhD candidate at UMass whose research includes predicting changes in global climate resulting from a collapse of the West Antarctic ice sheet.
Ezra Small: Campus Sustainability Manager at UMass and the chair of the Chancellor's Sustainability Advisory Committee (CSAC), which is the body responsible for advancing overall sustainable efforts at the university.
Witter Swanson: Is a sophomore at Amherst College and hails from Tupper Lake New York, where he is currently a member of the Wild Center's Youth Climate Advisory Board and is an alumnus of its first Youth Climate Summit.
Stephen Taranto is an ecologist working primarily in Bolivia with projects focused on environmental education and biodiversity conservation. Most recently he has been leading Climate Change Education professional development programs with teachers from the US in Bolivia and Panama.
The Western Mass Climate Summit will be supported by Summiteers, Hampshire and Smith College students, who will participate with each team to answer questions, assist in facilitating discussions, provide support and feedback for the event, and help groups of students draft pledges of climate related action that they plan to carry out at their schools after the summit.
The Western Mass Youth Climate Summit is modeled on the first Adirondack Youth Climate Summit developed by the Wild Center in Tupper Lake, NY. 2018 is the second year for the Summit in Western MA.
The Hitchcock Center for the Environment's mission is to foster greater awareness and understanding of the environment and to develop environmentally literate citizens. www.Hitchcockcenter.org
Arcadia Wildlife Sanctuary is a sanctuary of Mass Audubon providing outdoor learning, access, and opportunities at its location in Easthampton, MA. Mass Audubon's mission is to protect the nature of Massachusetts for people and wildlife. www.massaudubon.org
Youth Climate Summit 2018 Schedule of Events
Events in bold are suggested for media interest.
November 8, 2018: Hitchcock Center for the Environment (845 West Street, Amherst)
9:00-9:15 Welcome to Summit and Hitchcock Center
9:15-10:00 Keynote: Sue Van Hook of Ecovative
10:10-11:00 Workshop 1: Climate Communication with Toni Lyn Morelli & Shaina Rogstad
11:00-11:10 Break
11:15-12:05 Workshop 2: Youth Leadership with Stefanie Covino & Center for Ecotechnology EcoFellows
12:05-12:35 Lunch w/ round tables
12:35-1:25 Workshop 3: Green Transportation with James Lowenthal, Andrew McNulty, & Ezra Small
1:25-1:35 Break- snack
1:35-2:25 Workshop 4: Sustainable Farming Tour at Hampshire College Farm with Rhys McGovern & Stephen Taranto
2:25-3:25 Group activity: Environmental Entertainer Tem Blessed
3:25-3:30 Closing Day 1: What to expect/bring tomorrow
November 9, 2018: Arcadia Wildlife Sanctuary (127 Combs Road, Easthampton)
8:30-9:00 Walk-in, Group Art project with Jan Ruby-Crystal: The temporary installation will use objects collected from the sanctuary to create a mandala.
9:00-9:15 Intro to Arcadia, and day's goal
9:15-10:10 Workshop debrief and CPS for interest
10:10-10:15 Break (Posters, Tables, Food, Art)
10:15-10:45 Natural Solutions Hike: Students will have the opportunity to take a guided walk through Arcadia's Climate trail. They will discover climate change facts, impacts, and solutions as they see nature-based solutions all around them with Arcadia Volunteers.
10:45-11:15 Intro to Climate Action Plans with Witter Swanson
11:15-12:00 Lunch (Evaluations, Tables)
12:00-1:25 Create Climate Action Plans
1:25-1:35 Break (Evaluation, Posters, Tables, Food, Art)
1:35-2:15 Create Presentation of Plan with Stephen Taranto
2:15-3:15 Presentation of Team Climate Action Plans
3:15-3:30 Closing
Youth Climate Summit 2018 Funders
FOUNDATION SUPPORT
B & E Youth Futures Fund
Community Foundation of Western MA
Edwin P. & Wilbur O. Lepper Fund
Northampton Educational Foundation
Jon Walker Memorial Fund
LOCAL SUPPORT
Crooked Stick Pops
Hillside Pizza
PV Squared
River Valley Coop
Click here
to return to full list of news entries.