Adult Community Programs
Join us for some unique opportunities for adults and families this spring.
Holyoke Community Walks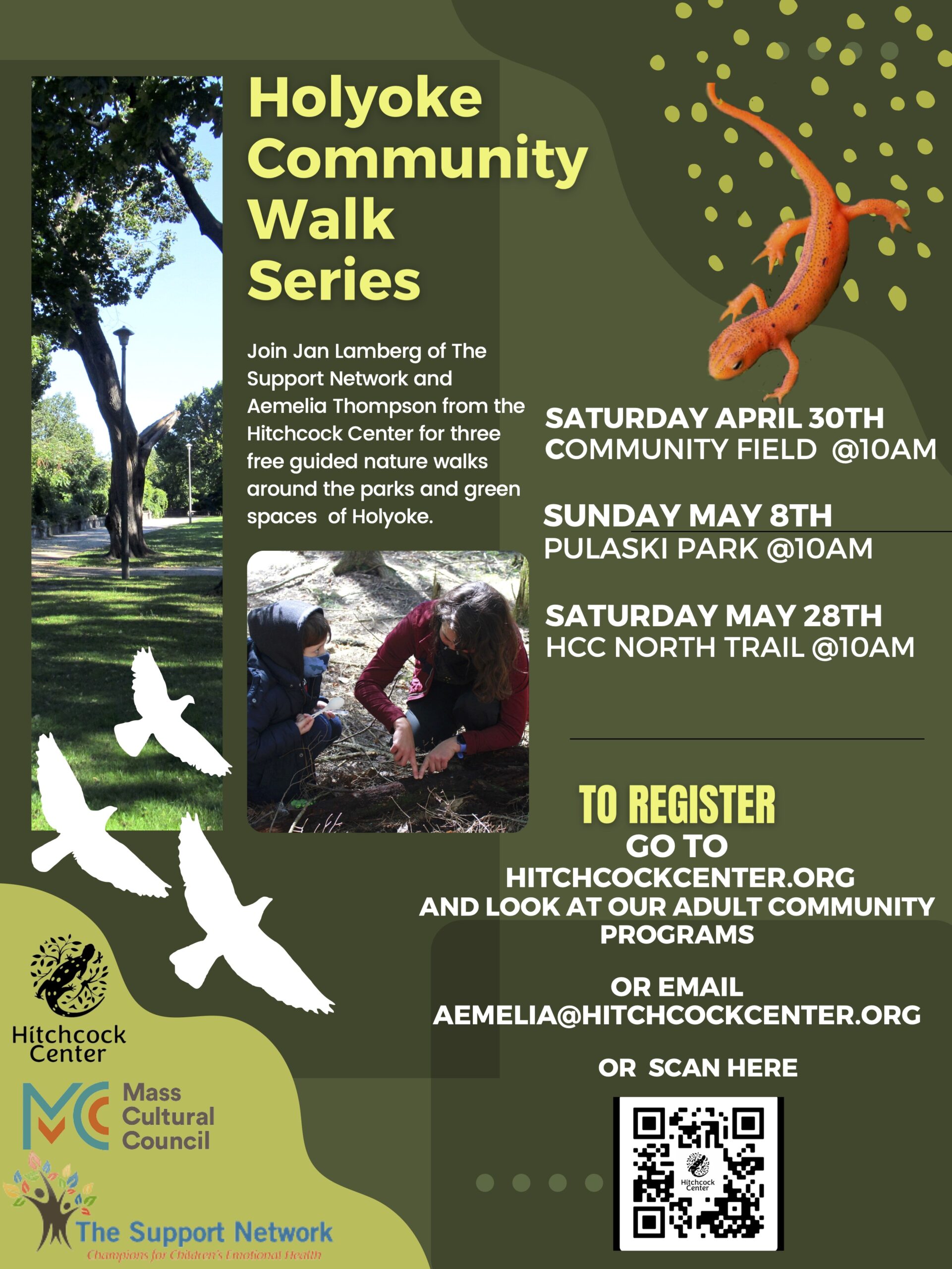 Spending time outside can led to greater physical, mental, and emotional health, and there are plenty of local outdoor spaces in Holyoke to enjoy. On these walks we will listen and look for birds, search for signs of animals, learn about our own place and relationships to these ecosystems.
These walks are free and open to the public and families are encouraged to participate by sharing stories and knowledge of their own! Holyoke resident and Hitchcock Center educator, Aemelia Thompson, will be joined by Jan Lamberg from the Support Network, will guide our groups along the walks. Information can be given in both English and Spanish
Saturday May 28th: HCC- North Trail @ 10am
Directions: https://goo.gl/maps/yRDyXZqHmgdwyUcr6
This walk will be on uneven and unpaved, but wide and flat ground.
Parking: Free guest parking is located right next to the entry to the North entrance of the HCC Refuge and Nature Trail.
Bus: The P11, R23, & R41 drop off at the HCC bus circle just across from the trail HCC north trail entrance.
We ask you to register so we can prepare for group size. We suggest that attendees wear shoes that are comfortable and clothes that they do not mind getting dirty. Masks will not be required but can be provided at request.
Our City Our Parks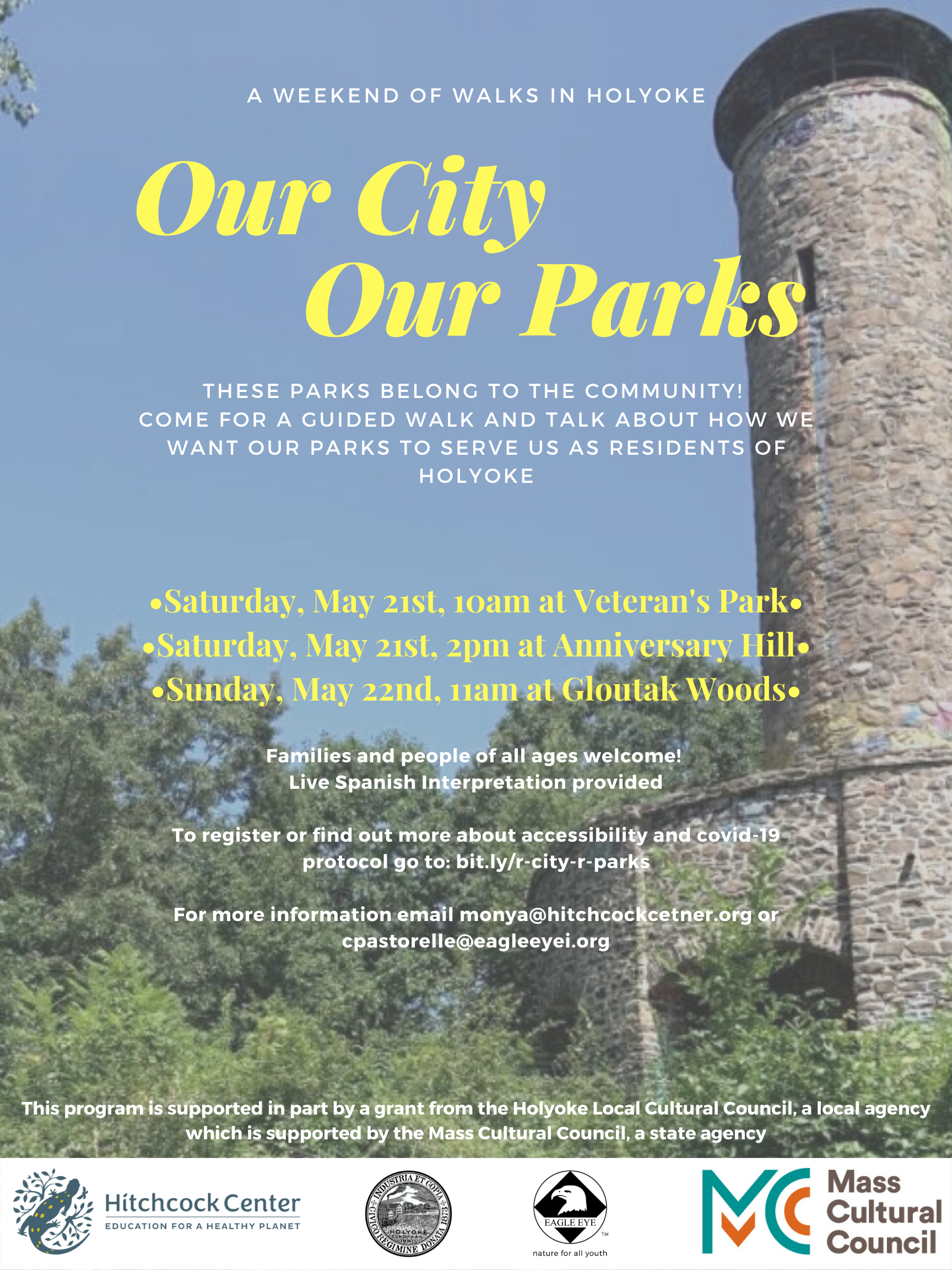 A weekend of walks in Holyoke.  These parks belong to the community!  Come for a guided walk and talk about how we want our parks to serve us as residents of Holyoke.
Saturday May 21st @ 10am: Vete
ran's Park
Saturday May 21st @ 2pm: Anniversary Hill
Sunday May 22nd @
11am: Gloutak Woods
Families and people of all ages are welcome!  Live Spanish Interpretation provided.
Indigenous Voices: Stories from the Connecticut River Valley of Massachusetts
Sunday, May 22 1pm-5pm 
Screening a Series of Short Videos about Native Life Past and Present, produced by the Nolumbeka Project in collaboration with Turning Tide Films.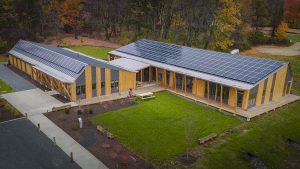 Building Tours for Classes or Groups 
The Hitchcock Center is the 23rd building in the world and the 4th in Massachusetts to achieve the Certified Living Building designation! It is designed to model systems in nature, it is net zero energy and water, has composting toilets, and has been made with responsibly sourced non-toxic materials. Find out what makes our building a special teaching tool empowering visitors to ask, "what does sustainability look like in the built environment and in my community?" Using Zoom, we'll explore the systems and features of the building. Bring your questions so we can learn together. Tours typically last from 1-1.5 hours and have a sliding scale fee of $50-$100.  Please email casey@hitchcockcenter.org to schedule a tour.