Adult Community Programs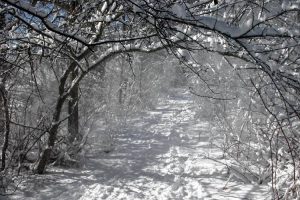 The Hitchcock Center is offering limited adult education programs at this time. Please see our seasonal offerings below, aimed at fostering greater environmental awareness, literacy and action. These programs are offered through our highly skilled education staff as well as through a strong network of scientists, naturalists, environmentalists, educators, advocates and organizations who partner with the Hitchcock Center.
Fireside Chats 
with Hitchcock staff and guests 
Casual conversations centered on nature, around a fire, enjoying the beauty of a crisp winter evening with hot beverages and nibbles.
Thursdays at 6pm 
January 20 –  Moon Gazing & Winter Owls 
February 17 – Natural History of a cup of Hot Chocolate 
March 17 – Indigenous Plant Wisdom- Sacred Plants of New England 
Cost: Sliding Scale
Owl Prowls
with Dan Ziomek 
Saturday, January 29th or 
Friday, February 11th (cancellation date of Saturday, February 12) 
7:30pm – 10pm 
Have you been hearing the Great Horned Owls at dusk and dawn?  They are hooting.  Join valley birder Dan Ziomek for this extra special treat of searching for owls on winter nights!  Dress super duper warmly.  For ages 12 and up.  Space is limited.   Cost $25. 
Winter Forest Bathing at the Hitchcock Center

With Todd Lynch
Saturday, February 12, 2pm – 4:30pm 
and/or Saturday, March 19, 2pm – 4:30pm
$25 per class

Come experience a guided Forest therapy walk with Todd Lynch, certified ANFT guide. Forest and Nature Therapy offers us the opportunity to slow down. It re-aligns our rhythms with the landscape, allowing our senses a respite from everyday demands and uncertainties. It's a chance to remember our connections to nature and the joyful relationships that await us outside. This guided experience is not a hike or naturalist adventure, but an opportunity to slow down and allow our bodies to engage all of our senses. Please note that this is not "therapy" as commonly denoted in our culture, but an offering of a therapeutic way to be in nature. Guides are not trained clinicians; they hold the space to let the forest be the "therapist".
What to Expect:
A leisurely walk of about a mile with stops along the way where we will gather and sit. We'll all wear our masks when we gather together and the walk will be planned in a way to promote safe physical distancing of 6 feet or more between participants.
We will focus on our senses to develop an immediate connection with the forest. This is a very relaxed, slow, and mindful way of walking. The walk should last about 2-2.5 hours and we will finish with a gathering circle where we can share about our experiences..

Winter/Spring Birding Course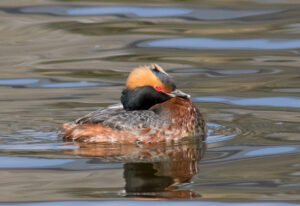 with Scott Surner
Join birder extraordinaire and veteran bird course instruction for this bigger and better than ever late winter/spring birding course.  This course is all field trips,  in all sorts of habitats with all kinds of birds!  Course is limited to 12 participants and will be outdoor only for COVID Safety. Participants must be vaccinated and willing to carpool. Sliding Scale Pricing – Tier A- $550  Tier B- $500  Tier C- $450  Tier D- $400.  
*Registration opens on Tuesday, January 18 at 9am
FIELD TRIPS:                                                                                                   
February 12 – 5AM-Dusk.  Cape Ann or Plum Island-

Coastal Specialties – Scaups, Common Eider, Harlequin Duck, Surf, Black and White-winged Scoters, Common Goldeneye, Buffleheads, and Red-breasted Mergansers. Purple Sandpipers, Iceland Gull, Glaucous Razorbill, Black Guillemot, and perhaps a Snowy Owl.

February 19 –7AM-12PM. Local

– Amherst-Hadley. Winter birds- Hawks, Horned Larks and maybe Lapland Longspur or Snow Buntings. American Tree Sparrows.
February 26

–

7AM-12PM. Local

–  Amherst/Hadley Region. Early waterfowl.
March 5 – 7AM-12PM. Local

  Waterfowl. By this time waterfowl will be returning to the Valley. We'll take a look at several vantage points along the Connecticut.
March 19 – 7AM-12PM. Local

  Waterfowl migration is in full swing. We'll hit areas in Hadley, Hatfield and Turner's Falls.
March 26 – 5AM- All Day. Moose Bog, VT

. This trip is very weather dependent. Northern Specialties- possibilities include, Spruce Grouse, Black-backed Woodpecker, Canada Jay, Boreal Chickadee and perhaps some winter finches, Crossbills, Siskins.
April 2

–

7AM-12PM. Local

Local 7:00AM-12:00 Waterfowl and early migrants.
April 9

–

7AM-12PM. Local

  TBD 
April 16 – 7AM-12PM. Ludlow

– Looking for Upland Sandpipers at Westover AFB.
April 23rd– 7AM-12PM Fannie Stebbins Refuge, Longmeadow

. Early Warblers, (Palm, Yellow-rumped, Pine, Yellow and maybe Northern Waterthrush)
April 30 – 5AM-Dusk. Plum Island. 

Waterfowl, Egrets, Shorebirds and maybe a lingering Snowy Owl?
May 7 – 7AM-12PM. Local. 

Warbler migration starting to ramp up. We'll visit local areas in Amherst.
May 21 – 6:30AM-12PM

.

Mt.Holyoke

We'll hike up the main road to the Summit House. Nesting Cerulean and Worm-eating Warblers will be our goal.
May 28th– 5:30AM-12PM.  Southwick WMA.

We visited this area for the first-time last spring. Nesting Grasshopper Sparrows, Field Sparrows, Prairie Warblers, Eastern Meadowlarks and much more.
Overnight Trip – June 10-12

– Ct. Lakes, Pittsburg, NH?  To be discussed by class.

                    
Winter Tracking with Kathy Dean 
Saturday, February 19th , 9am – 12pm in Buckland
Join us for a winter morning exploring the tracks and sign that animals have left behind in the woodlands and wetlands surrounding Kathy's home in western Massachusetts. All levels welcome.
Kathy Dean has worked in the field of outdoor education since 1983 as a wilderness guide, rock climbing instructor and teacher of animal tracking, bird language and nature awareness. In addition to working with several nature education centers, she offers wildlife tracking, bird language and custom-tailored nature programs through Trotting Fox Programs. Kathy is the author of Abbreviated Field Guide to Mammal Behavior: New England Region. She lives in a small hill town in western Massachusetts and is blissfully surrounded by woodlands, wetlands, and wildlife. 
Please dress extra warmly with the following recommendations, wear layers of non-cotton clothing, namely synthetics or wool and an insulated synthetic or down jacket as well as a warm winter hat and gloves or mittens. Warm, insulated boots are a must, and folks may want to bring extra socks and/or toe and hand warmers as we will be standing around or moving slowly much of the time. Also bring a daypack with extra layers, snacks, water or a thermos of something hot.   Class $30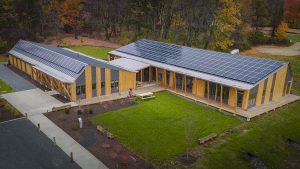 Building Tours for Classes or Groups 
The Hitchcock Center is the 23rd building in the world and the 4th in Massachusetts to achieve the Certified Living Building designation! It is designed to model systems in nature, it is net zero energy and water, has composting toilets, and has been made with responsibly sourced non-toxic materials. Find out what makes our building a special teaching tool empowering visitors to ask, "what does sustainability look like in the built environment and in my community?" Using Zoom, we'll explore the systems and features of the building. Bring your questions so we can learn together. Tours typically last from 1-1.5 hours and have a sliding scale fee of $50-$100.  Please email casey@hitchcockcenter.org to schedule a tour.