Hitchcock Community Gallery
Valley Skies
Photographs of the Pioneer Valley
By Dominique Thiébaut
On exhibit January 20 – March 31, 2020
Opening reception January 31, 4:30-6:30pm
Poetry reading February 15, 5-6:30pm (see below)

In his first exhibit at the Hitchcock Center, long-time resident of the valley Dominique Thiébaut has selected photographs of the landscape surrounding the Pioneer Valley, including several photographs of the Holyoke Range. Thiebaut's photographs capture the ever changing New England light, focusing on the Seven Sisters in early morning sunlight, encased in fog, with rolling clouds caressing their tops, or in the glow of a summer sunset. The main piece, a multi-panel photograph printed on metal, combining digital processing and photography, reflects both the beauty and the fragility of our environment.
Dominique Thiébaut moved to the Pioneer Valley in the 1980s, from Paris France. Like many residents, he never left the valley, and adopted it as his home. He currently lives in Northampton, MA. An avid amateur photographer, he spends every opportunity to capture the beauty of our ever changing New England skies.
In a Valley: A reading of poems by local poet Sara Eddy written in collaboration with Dominique Thiebaut's landscape photography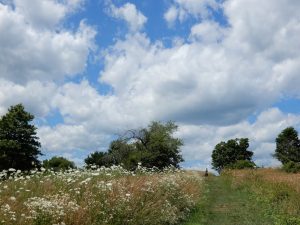 Saturday, February 15, 5-6:30pm
Free
Registration encouraged
…your heart has always been here,
one foot on Mt. Castor, the other
on Mt. Pollux, the twins sending out
succor and safety to sailors,
granting them passage home and
blessing them with a constellation's
infinite confidence: you will find
your way back, always.
(excerpt from "Your Whole Life")
Local poet Sara Eddy will read poems written in response to the photographs of Dominique Thiebaut, whose work is on exhibit in the Hitchcock Center's Community Gallery. Eddy's work mines Thiébaut's lush, romantic visions of the Pioneer Valley with the tools of a life-long native of Amherst, born in Northampton and raised by the banks of the Fort River in South Amherst.  Her poems respond to the photographs with a combination of almost familial comfort in the landscape of the valley and a deep curiosity about the geologic and human history of the places depicted. Eddy is a writing instructor at Smith College and author of a recent publication of poems about beekeeping, Tell the Bees, as well as a forthcoming volume of poems about food, Full Mouth. Her collaboration with Thiebaut has resulted in a work-in-progress.